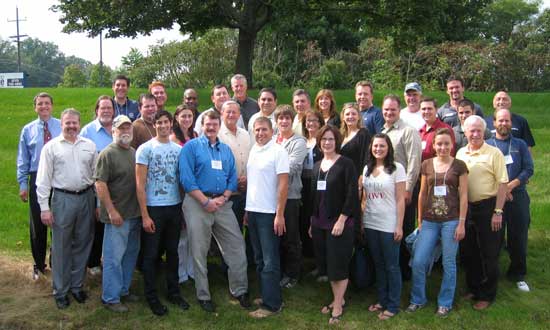 "I always appreciate Chuck Violand's enthusiasm in teaching difficult subjects like financials and hiring. They are both necessary and I can't think of anyone better than Chuck!"

Bill Mountain, Bill Mountain's Thorough Clean
Lake Ariel, PA
"Numbers can be scary and Chuck made them easy to understand and taught slow enough that we could keep up with him."

Falon Clark, Acorn Rug Cleaning
Akron, OH
Chuck is the unsung hero of Strategies For Success. He brings an unknown group of people together on Day One of SFS and "warms them up" with two of the toughest subjects out there. I appreciate and respect Chuck greatly. Are you signed up for his SFS only "Business Planning Seminar"? If not, you should be!
"My feelings are that you have the best group of employees I have ever seen. I hope I can find the same type of people. I love SFS and what it has done for my business."

Paul Williams, Williams and Fields
Willingboro, NJ
I couldn't agree more about the quality of people Jon-Don attracts. I always say that Jon-Don is the only company I ever courted! And the reason why was the quality of the individuals I would be working with. Just keep focused on your Value Added Service vision, Paul, and you will too.
"I think everything was great! So much amazing information to take back and implement in my business. I liked that the subjects related to where we all seem to be at in our companies right now. Thanks so much!"

Falon Clark, Acorn Rug Cleaning
Akron, OH
You know, Falon, too many seminars just blather along in generalities OR try to extort more money from a captive audience! At SFS we are trying to break this vicious mold. One thing that keeps us topical and current with your needs is to have input from you. This website is a great resource to keep us on our toes and be sure to attend to what you are facing in your company.
"The single best thing of my second day at SFS was validation! We're on the right path, doing the right things."

Meg Burdick, Burdick's Carpet Cleaning
Chalfont, PA
Meg, I always say that one of the best things about Strategies For Success is that we "validate" many of the things that you are already doing but didn't know WHY! OR we remind you of things that you at one time did but have now slacked off on. We don't pretend that ALL of our material is original. We do guarantee that it is topical and relevant to your business. See my comment above to Falon on how you can help us achieve this goal.
"The knowledge and experience you taught me this week at SFS is priceless. The generosity of Jon-Don and Mr. Nick is beyond comprehension. (I loved Nick's jokes.) This has been a great week at Jon-Don. Thank you, thank you, thank you!

Kami Visser, Rainbow International
Newcastle, DE
Thank you, Kami. You weren't the only one that was impressed with Jon-don's people and especially with Poppa Nick. Mike Burnett posted this into the SFS web site and I'm sure he wouldn't mind me sharing it with all of you. (It sort of brought a lump into my throat …)
"I recently attended the Strategies program in Langhorne, PA. The last day was yesterday and I am somewhat depressed. The entire week I learned so much from Steve, Bill, Chuck and Nick. I will be forever grateful! Steve makes learning fun, easy and humorous. He is a top notch instructor who can make just learning the phone book fun! Chuck makes your financials as easy to understand as dialing numbers on the phone. Bill's marketing techniques makes you wonder why he is a human being and not a computer generated marketing software!
The reason I am somewhat depressed is because I miss learning from the best and when I say 'best' that is a huge understatement. Nick Paolella is a man with a heart of gold, he cares for people and their quest for knowledge in this industry and shows it with the hospitality he provides for his customers. Without a doubt Nick considers his clients family.
So take SFS, meet these people, enjoy the knowledge they provide and if you can tell me you are not satisfied and you do not miss them when you leave….I will pay for your course!"

Mike Burnett, Spectrum Carpet Cleaning
Frederick, MD
Wow! That is high praise indeed, Mike. Thank you. And I believe we all share your opinion about Nick. He is the one that sets our entire Value Added Service culture here at Jon-Don. (He just didn't know what to call it till I came along!)