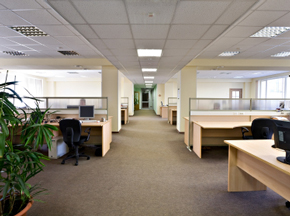 Consistent cash flow and high profits …
Sounds good doesn't it? More and more cleaning and restoration contractors are attracted to regular commercial accounts for this very reason. However, the commercial sector has a totally different set of rules and you better learn what they are! Here's some Frequently Asked Questions on commercial work and the answers we've learned from thousands of SFS members!
"How can I price commercial jobs to make a profit?" First, you need to know what your production rate is for any given cleaning scenario. And then know how much you need to make per hour and BINGO! Your price per sq. ft. and/or job will emerge with Steve's commercial pricing guidelines HERE…
"So how should I measure for commercial bidding?" Here's how to avoid "measurement quibbling" from your commercial prospects.
"What should I include on a 300,000 square foot institutional carpet cleaning proposal?" Just follow the simple principle of "divide and conquer along with these "big job" guidelines.
"I'm getting killed out there. How do my competitors make money at .07 per foot?" Steve says before you automatically slot these people into the hack cleaner category maybe you better ask yourself some tough questions…
"How can I price apartments low enough to get the work and yet still make money?" Yes, it IS possible to make a profit IF you follow these apartment production/pricing guidelines.
"What should I say after introducing myself to a commercial cleaning prospect?" Yep, if you're not careful here an awkward pause will develop and you will start to "babble"! Take control of the "commercial interview" with this Commercial Carpet Analysis form.
"I am so sick of waiting for an employee to show up to let me into a commercial account. How can I get a key?" Steve shares one simple phrase plus a short script that (almost) always gets you your very own key!
"OK. Now I FINALLY have several regular monthly commercial accounts but how do I organize them with different employees doing the work?" Develop a one page Commercial Account Profile for each regular job. And yes, we've made it easy for you!
"How can I consistently get new commercial accounts signed up?" Just download this free Special Report on "Selling Commercial Cleaning". It just may transform your business and maybe your life!
"How can I get one-time-only commercial accounts to sign a long term cleaning contract?" Setting up a routine "toll booth" is essential for your cash flow. And yet customers are understandably reluctant to commit. Here's some ideas including one simple tactic you need to implement tomorrow…
"So what is all this talk about 'encapsulation' and what will it do for me?" Jeff Cutshall explains how "encapping" with the Cimex changed his business and then gives you a step-by-step outline on how to build a commercial encapsulation route.
Want more "Success with commercial work" resources?
HERE are recent articles on commercial/janitorial cleaning
HERE are dozens of Special Reports on how to build a smoothly running commercial cleaning business and…
HERE is the "Business Infrastructure" to make it happen without you and …
HERE is Steve Toburen's orientation video on WHY you need to attend Jon-Don's Strategies for Success seminar!