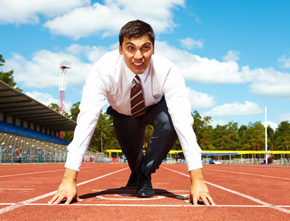 "I'm starting my own business!"
What a beautiful, full-of-hope phrase! The cleaning and restoration industry offers incredible potential… IF you "do it right"! BUT "do it wrong" and your life WILL become "Hell on earth"!
So let us help! Our SFS team has over 150 combined years in this business. We've "been there- done that" and are here to help. So choose any (or all) of the questions below and let's get you some answers!
"I'm overwhelmed! What should I do first?" Steve shares "A Just Starting Out" Check List.
"How can I get my wife onboard with my new business?" True success means your family is united. Here are some thoughts on how to get everyone pulling together.
"Should I buy an existing business or start from scratch?" Here's some guidelines.
"How do I get the phone to ring?" Bill Yeadon shares a very effective, fast and cheap (New cleaners like cheap!) way to get other businesses to refer your services!
"How should I answer the phone when it DOES ring?" A Buffalo, NY carpet cleaner says Steve's SFS Phone Script needs tweaking. Steve agrees…
"As a new business owner should I try to save money on chemicals?" All of us pinched pennies when we started out. But sometimes the cheap route costs big time down the road!
"How can a new carpet cleaner get regular cash flow… FAST?" A Phoenix cleaner needs to get the money coming in. Steve gives him (and you!) the six key steps to make it happen!
"I'm new at this. So how should I price out commercial cleaning jobs?" Here are some simple factors to consider along with time proven pricing formulas.
"I've only got 5,000.00, Steve! So what equipment should I buy?" A Colorado "newby" asks Steve if "less can be more". Steve replies with a resounding YES!
"What can I do to pay my bills till I get this new business up to speed?" A Missouri cleaner is struggling and Steve shares some key points for a business of any size!
"What is the survival rate for new cleaning start-ups?" Could it be a new carpet cleaner in Maine is getting cold feet? Steve gives him some "tough love"!
"As a start-up company can I just focus on commercial work?" Steve says, "Absolutely! BUT you better choose (and price) them wisely!
"How can I conquer my fear of residential cleaning?" A new Montana cleaner is struggling with the unusual fear of working inside customer's home.
Winston Churchill was never a struggling carpet cleaning entrepreneur. (At least not that we know of!) BUT Sir Winston's famous phrase, "Never give up" should resonate with new start-ups!