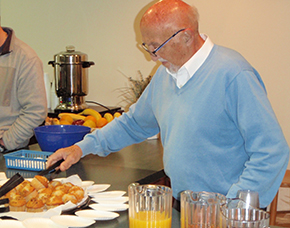 Sooner or later most solo entrepreneurs will hire employees.  Many later deeply regret it.  So sad because it doesn't have to be this way.
Listen carefully here: People hire on with you for a pay check.  (Duh!)  BUT they STAY long term because they "buy in" emotionally to the family atmosphere and shared vision  you have created.
For example, note what one SFS member does for his workers …
We have monthly breakfasts where I cook and serve for all the employees. The food served is nice but even better the breakfast turns into a "pep rally" for the company before the technicians head out to work. We always give out employee awards during the meal and try to give everyone recognition.
You can't really do enough for your employees in this area. The "monthly" part is especially good because it commits you to a schedule. Remember, if you personally are not committed these "employee initiatives" will start off with a bang but quickly fizzle out.
The concept of the boss cooking for the company's workers is inspired from a psychological and emotional standpoint. Psychologists call this "Servant Leadership" and it's powerful stuff for winning over the minds and hearts of your employees.  There's just something about being served by the boss!
In fact, one of the most praised parts of the Strategies for Success experience is Jon-Don's owner, "Papa Nick" Paolella, serving lunches to all of our SFS attendees!  (Nick, who is possibly the highest paid "caterer" in the world, says he just loves serving others!)
Steve
PS  So what do you do to create a "family feeling" in your company?
Every week we share a timely, practical tip like the above. So if you're not already signed up for these FREE weekly QuickTIPS, do so now.