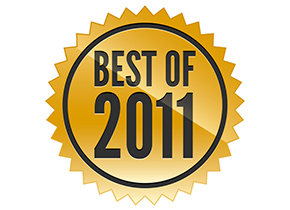 What reached out and grabbed our SFS site readers during 2011?  This recap let's you know what our little "band of brothers" focused on last year.  WHAT?  You STILL haven't acted on any of these ideas?  REALLY?  Well- I'm giving you ONE MORE CHANCE with this review.  Just don't let 2012 leave you in its dust. And if you happened to miss any of these practical articles, sign up now for our emailed-every-Tuesday QuickTIPS. (We link to all the newest posts in each weekly tip. Sign up here.)
Steve
This is the perfect marketing combo- powerful AND cheap! Soothing your customer's fear of letting a unknown tech into their home is smart marketing and the "right thing to do".   Don't over complicate this.  A simple photo ID badge not only give your customers confidence.  ID badges also send a message to your employees that they will be held accountable for their actions.  Wonderful!
Cleaners world wide are fighting with burn-out.How can a New Zealand owner-operator provide for his family short term while also building "something of value" to support his retirement? Good question!  Steve says you must not only work IN your business you must also work ON your business!  Sounds like a plan for 2012 don't ya think?
No surprise- how to get plumber's fighting to refer their water loss calls to you was hugely popular in 2011.  Even better, Ivan Turner (who is actually DOING this stuff) shares a program that is FREE!  (Ivan says giving "kickbacks" is a slippery slope that you don't want to start down.)  Reach out to local plumbers NOW with Ivan's concepts!
This one is a classic. Thanks to our recent (some say "ongoing"!) Great Recession it is now fashionable for even your well-heeled customers to "haggle" on price.  Don't blow these people off by dismissing them as "dirty, rotten Price Shoppers"!  Instead, play their game AND still make money!  Stop the insanity. Read this information.
This one surprised us on how popular it was. But hey- the simplest ideas are the most effective. Those sweet little interactions we call Moments of Truth in SFS add up to create a Customer Cheerleader. Remember that a Customer Cheerleader is your ticket to a fulfilling, profitable business now AND eventually a fabulous retirement!
So what did our most popular 2011 posts tell us about business in the year to come? Simple!  Humans will always be human.  So focus on the Emotional Dynamics of why people buy from (and refer) you and 2012 will be a great year!
This is EXACTLY the stuff that Jon-Don's Strategies for Success focuses on!  So check out the schedule for your upcoming Strategies for Success seminars HERE. Hope to see you there!