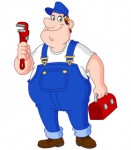 With the winter time "freeze" right now on residential carpet cleaning you're probably loving those high ticket "frozen pipe" water losses right now!  BUT too often local cleaners get aced out of insurance work by adjusters who only want to  work with the big franchises and other "Preferred Provider" network members.
Many SFS members have fought back by going straight to the source. How?  By marketing to their existing customer base, property managers, realtors, insurance agents (who have a much different agenda than adjusters) and the ever popular PLUMBERS.  I mean, after all- who gets called first on a water loss! The plumber! However, plumbers get solicited constantly by cleaners for their referrals. This QuickTIP puts a spin on things:
Instead of bugging plumbers asking them to refer YOU, why not stop by and ask them for THEIR cards to give to your flooded clients?  Now you have an opening to inform them about your emergency water damage services. Hopefully the plumber will now ask you for some of YOUR business cards!
This is an old trick called "The Law of Reciprocity" as in "I'll give first which of course puts you under an unspoken obligation", etc.  Actually someone far wiser than any of us summed it up well around 3,000 years ago when he stated, "Send out your bread upon the surface of the waters, for in the course of many days you will find it again."  (Ecclesiastes 11:1) Plus, who knows … you just may need a plumber some day!
Steve
P.S: The main motivation for anyone (even a plumber) to recommend your service is that their customer will be delighted with your service.  Screw the job up and their name will be mud!  Learn how to create ecstatic Cheerleaders out of scared, traumatized clients with flooded homes in my free Special Report: "Recession Proofing Your Restoration Business"
NOTE:  Our very own SFS Restoration Marketing Expert (and SFS member) Ivan Turner chimed in with these ideas:
"Steve, don't forget that Risk Managers can be a very lucrative source of work for restorers.  Municipal, state and federal government buildings along with almost all larger institutions including hospitals and colleges will have Risk Managers on staff.  Sometimes they go under the title of Facility Manager but their job function and authority (which can be considerable!) are the same.
Also, speaking at or sponsoring the local Board of Realtors annual meetings are a great way to spread your message or better said, "To tell your story". (Which is a famous Billy Yeadon quote.) But I suppose that would make for another QuickTIP!"
Ivan Turner
Ivan shares his unique restoration marketing concepts at ShowMeMarketingSolutions.com (I strongly recommend you check this site out.)  He also pops in now and then to share his down-in-the-trenches ideas in our Disaster Restoration section.