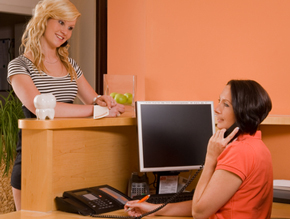 Virtually no one wants to go see their dentist. (And SFS teaches us that just like a dental appointment home owners view their carpet cleaning as a "Tolerated Irritation"!) Yet dentists have been successfully using this "forward scheduling" technique for years. Carpet cleaners too have a golden opportunity to get their client committed to next year's cleaning as they say "goodbye".
Design your refrigerator magnets with a white space labeled "date of service due" for next year's carpet cleaning. Before handing the homeowner the magnet just routinely ask, "How often do you clean your carpets? And what day of the week is best for you? Which works better- mornings or afternoon?"
Then look at your calendar and ask, "OK, so how about I write down Wednesday, June 13th at 9:00 AM on this magnet? Then we'll confirm with you by email and phone several weeks beforehand to see if this appointment still works for you."
Hey, if it works for Quick-Lube shops, why not carpet cleaners? Refrigerator magnets are cheap plus this tip also lets you replace your old, beat up magnets on the customer's fridge. Two hints. 1) Be sure to give the "Illusion of Control" by asking the customer's permission to replace your previous magnet on their refrigerator and 2) Make it "easier to do it right than do it wrong" by sending this magnet out clipped onto the tech's Job Folder.
Now you can stop vainly waiting for your customer to call next year. Instead, just imagine the power of having permission to call and check on their pre-booked appointment! Works for me!
Steve Toburen
PS  So how do you get your clients "pre-committed" to the next cleaning? (One other great technique we used was offering our customers the "Stay Beautiful" program.)
Every week we share a timely, practical tip like the above. So if you're not already signed up for these FREE weekly QuickTIPS, do so now.
This week's FOCUS: Surviving the slow winter

Keeping carpet cleaning safe in the winter cold!

What does your van say about you this winter?

It's getting cold outside. Protect your hoses.

Network with local plumbers for more water damage referrals

Getting plumber referrals on water damage jobs

4 reasons to get serious about cleaning commercial carpet

The beauty of maintenance plans for steady income

This cleaner from Maine knows how to prepare for winter!

Download: The "Stay Beautiful" residential program
Also new this week: