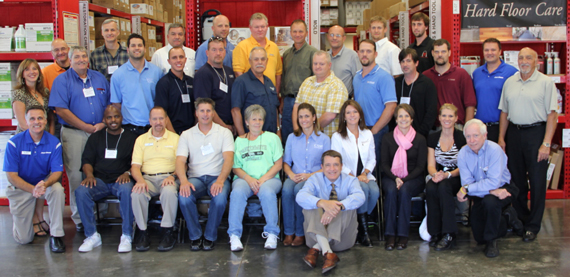 View upcoming St. Louis seminars
I've been to countless college lectures and this was the best one I've attended. Just GO. This is the best 5 days I've spent for my business future. From the first day I've felt at home.

Nick Giordano
Gateway Decon
SFS will make my company more profitable immediately by helping me force myself to review my financial reports more closely. I would recommend this course to anyone in the business whether they have 10 or 20 years in the business and definitely to start-up companies. I look forward to the task and thank you for getting my thoughts and ideas into motion.

Larry McQueen
Carpet Care Plus
Now I have a very long to-do list! This is valuable knowledge vital to the success of any business. We gained knowledge not taught via traditional academic institutions. Steve is extremely knowledgeable. Strategies has been the best, most motivational 5 days I've experienced since I've started cleaning!

Adam Sickles
Two Brothers Carpet Care

Update: Just a note to say thanks for all the wisdom you shared at the SFS class in St. Louis back in Sept. I've used your hard-earned knowledge to achieve my best quarter yet. Also, I've purchased my first truckmount, secured a lucrative and mutually beneficial relationship with a prominent local flooring distributor. AND, my Scotchgard sales have gone through the roof! Thanks again.
The class absolutely provided all the information it promised in the advertising. It gave us a lot of information and was very useful, at times overwhelmingly so.

Erin Hicks
Pristine Cleaning
Bill's day on marketing was presented very well. I particularly appreciated learning how I was wasting my marketing dollars. This seminar is what I have been missing in my business. I built my business up to 300,000 a year by myself and it fell apart. I am starting over. This will make it so much better. Thank You!

Bob Farmer
JetStream Cleaning
I've been to marketing seminars before but this one actually makes sense.

Jim Thomas
Sam's Carpet Cleaning
I believe this course (and especially Steve's Value Added Service concepts) will transform our business.

Jennifer Donley
Donley Services
Steve Toburen's information was excellent! The value of Value Added Service concepts can't possibly be measured. I supervised a 30-35 million dollar company for 9 years. I know the corporate world pretty well. However by being a part of a corporation they supplied the materials, the direction and the expected result of sales and profits. When I started my carpet cleaning business almost 4 years ago I had none of this and have been swimming along (like in cold molasses) for 4 years without having the proper direction/focus for my business. SFS has given me lots of procedures and programs to get me headed in the correct direction.

Billy Lewis
Wizard Carpet & Rug Cleaning
I really do not want to recommend this to any of my local area cleaning and Restoration companies. As for fellow business outside my area … I'll recommend SFS until I am blue in the face!!!

Rick Massimi
Nauti-Cleaning Services
(See Rick's report on how SFS has helped him.)
Steve is very knowledgeable. His Value Added Service concepts are very helpful for making employee and customer Cheerleaders. It's been great. I have learned so much more than I did the first time, I can only imagine what my 3rd and 4th will be like!

Cheryl Teer
Midwest Restoration & Cleaning