Even with your new focus on Value Added Service you'll STILL (occasionally) face an unhappy customer. That's why in our SFS Training events I share how to 'convert' complaining customers into delighted Cheerleaders.  How?
1)      By quickly diffusing the situation with my 3-step Emotional Judo method.
2)      Fixing the problem quickly and cheerfully.
3)      Making 'Symbolic Atonement'.  (Doing 'something extra' at no charge.)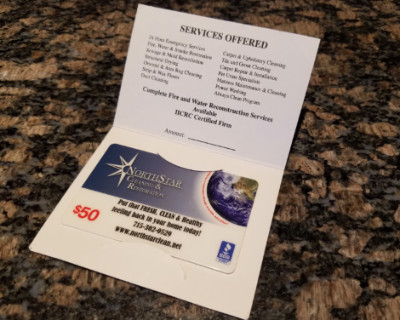 You have lots of Symbolic Atonement options. You can offer to touch up the traffic lanes in the next room, clean a few sofa cushions or their entrance mats or their car upholstery, etc.  But now let me share my ultimate Symbolic Atonement (S/A) gift for any unhappy customer …
Order classy plastic gift cards with your logo and contact information on them with a blank line for the amount.  So now you can whip out a 'S/A gift card' and say, "Let me make this up to you.  Here is a gift card for $____ that you can redeem down the road for any of our services."
If we inconvenienced a customer by being late I would make the Gift Card out for $20.00.  But if we had to put her out by coming back on a complaint then the S/A amount might be for $50.00.  And for a really big mess (even if she was happy) I might make the gift card out for the total cleaning price!
NOTE: Remember these gift cards have so many other uses in your marketing! For example, give $50.00 gift cards to real estate agents and mortgage brokers. (New-to-the-area clients!) Or let charity events auction your $50.00 gift cards off. (Great exposure!) Plus you can kick start your 'winter slow down' with gift cards!
NOTE: If our client was still NOT happy with us I would force myself to put on a big smile and write out a real check to refund her money!
The great thing here is your Symbolic Atonement gift card has real value both visually (it IS written on a real card!) and emotionally too.  ("Honey, they gave us 20 bucks off our next cleaning just because they were a half hour late!") PLUS you are delighting a client by gifting them your future services instead of giving away your precious 'current cash'!
But the biggest advantage for you? Your customer will almost certainly use your services again to 'cash in'" their Gift Card. You've just salvaged a client from going to your competition and quite possibly made a Cheerleader for life!
NOTE:  CLICK HERE to see a 'Gift Check' pre-printed with a "$10.00 off offer" that we handed out by the thousands at home and trade shows. My normal 'Symbolic Atonement checks' were blank so I could fill in the amount.
Steve