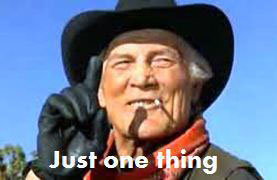 I loved the scene in the 1991 film "City Slickers" where Curly (Jack Palance) tells an intimidated Billy Crystal, "There's just one thing…"
So what's the "just one thing" for our extremely diverse industry? Fire and smoke damage restoration, residential cleaning, water mitigation, janitorial services, commercial contract floor cleaning, concrete and tile & grout cleaning all have one common "just one thing" Success Factor! Creating Cheerleader Customers with …
Value Added Service: "Manage your customer's experience to provide a consistently high level of perceived value and service."
So HOW can you "manage your customer's experience"?
Recognize that when providing a service your customer's "Perception of Value" is almost entirely determined by how they FEEL emotionally about the transaction. Why is this so? Because there is a huge gulf between buying services versus manufactured goods! In fact…
Your clients dislike and dread choosing any service! And don't even get me started on the tricky Emotional Dynamics of having "intruders" (your techs!) provide a service inside the client's "inner sanctum", their home. This leads us to the essential…
"80% Principle": "80% of how your cleaning or restoration client decides if it is a 'good job' or a 'bad job' is based on their relationship with the workers providing the service." Now the plot thickens because…
Your average service tech has virtually NOTHING in common with your client. Even worse, most technicians don't want to get "kissy-kissy" with your customers! Hmmm…
Now that we have a better idea of what it means to manage your customer's experience, maybe we should talk about how to "make it easier to do it right than do it wrong" (and profitable) for your techs to focus on "Making the Cheerleader"!
Steve