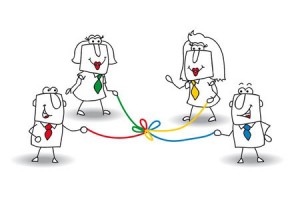 Sioux and I often use the first four letters of "CHOColate" in our over 40 year old "friendship"- Clear, Honest, Open Communication. And if a loving couple find it a challenge to maintain this CHOC exchange what about your clients and your employees? (When they have nothing-in-common!)
One essential strategy is "pre-communicating" with your client. After all, "Clearly Defined Expectations" are the key to all successful relationships. (Even forty year plus marriages!) And then you as the owner or manager must develop systems to…
Maintain a constant stream of clear communication to your clients.
Having these communication systems in place helps avoid costly misunderstandings and promotes a professional, trusting relationship. Customers are paranoid nowadays (can you blame them?) and will always assume the worst! Here are some CHOC tips:
Residential
1. Introduction: "Would you give me a tour of what we'll be working on today and as we go please show me 'any areas of concern'…" Adding this simple request at the start of the job cut our complaints by over 50%! You must discover what your customer views as important and focus on these items first!
NOTE: Download my free step-by-step "Carpet Cleaning Inspections that Sell" Format HERE. Don't forget that "pre-testing" is super-important in restoration.
2. Periodically during the job: "Mrs. Jones, let me show you how your back bedroom carpets responded…" Keep up a "running inspection".
3. Towards the end of the job (while looking at notes on your work order) say: "Let me review what we've found…" Instead of being "just a rug sucker" morph yourself into a "concerned consultant".
NOTE: Download my free step-by-step "Carpet Cleaning Inspections that Sell" Format HERE.
Commercial/ Restoration Most busy Property Managers and adjusters don't want "communication" from you unless there is a problem. (And maybe not even then!) So therefore…
1. Set up a password-protected online Shared Folder for each Facility Manager, insurance agent or adjuster you work with. Now you can easily update them with photos, progress report and any questions you have. Plus these stressed out people love controlling when to check in on your communications. Or even better…
2. Set up the same online Shared Folder for each commercial tenant and insured you work with. Now the tenant can easily complain to YOU instead of bugging the Facility Manager! And set up a Shared Folder for each insured so you can send them daily updates, newly filled out Room Sheets and photos. Now both the insured AND the adjuster will love you… because of your Clear, Honest, Open Communication!
Steve