"Talk is cheap." How many times have you heard that old phrase? Customers today are super cynical of slick marketing and broken promises. (And who can blame them?)
"Business Credibility" (as in "We will do what we say we will when we have promised to do it!") is sadly lacking today. So when first meeting a prospective customer you must first "break through" their skepticism.
Much depends on the first impression you (and your employees) make. But you must also quickly prove that you can "git 'er done!" as in make their home or business look great. After your contact gives you a tour and shows you their "areas of special concern" simply ask…
"May I pre-test a small section to see how this area will respond?"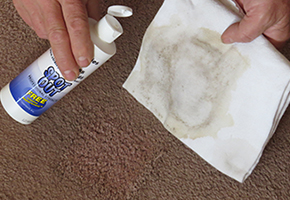 Choose your "test area" based on two factors: 1) What the client was most concerned about during your "walk-through" and 2) where you will get the most dramatic "show and tell" contrast. Here's how…
RESIDENTIAL: Saturate a really soiled 3″ x 3″ section of the carpet (usually coming out of the kitchen) with your Lifetime Free Spotter and agitate the Spot Out. Now compress several thicknesses of a pure white towel on the spot with your knee for 30 seconds while chatting with the customer. Then show your client the adsorbed residue (it will be BLACK!), fluff up the carpet with a clean part of the towel and you'll get the job!
NOTE: Check out our SFS VideoTIP for a step-by-step demo on how to do a "show and tell" residential Carpet Cleaning Pre-Inspection.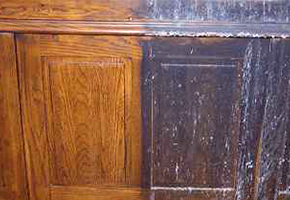 RESTORATION: Don't just be a "tape measure jockey"! Instead, interview the Insured with your Water Damage Customer Interview form. Then just test for additional water penetration or smoke residue removal. After all, your Insured principally wants "hope" from you.
COMMERCIAL: Involve your prospect by by interviewing them with this Commercial Carpet Analysis form. Then knock 'em dead with these commercial "Show and Tell" tips!
Steve