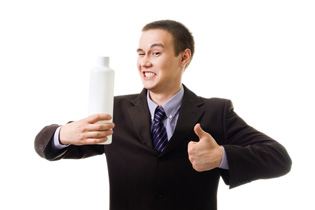 Hi Steve,
I've seen an overall slowdown in my business over the last two years due to the recession.  At the very least I really need to get my profits up on each job if I'm not going to be grossing as much.  So I'm thinking about selling a private label spotter for maybe 5.00 each (I'm thinking at least a 3.00 profit per sale!)  I know you used a spotter in your own business with good success.  So could you give me your thoughts on how to make more money by selling carpet spotter as an "add-on"?
Trying to Make Money in Sacramento
Dear Trying,
I feel your pain!  There is no question many home owners have both cut their frequency of cleaning and the total size of the job.  So this has impacted a lot of carpet cleaners out there. BUT may I offer some "tough love" advice???
First, I would submit it is seriously counter productive to make cheesy little 5.00 sales on spotters instead of creating a fantastic Moment of Truth with the customer by GIVING HER A FREE GIFT of a lifetime supply of carpet spotter and thereby show your appreciation for her business. This pays off a hundred times over your actual cost of a little more than a buck a bottle!  (And is worth a lot more than making a $3.00 profit!)  We're talking a Cheerleader for life now!
As far as I know, Trying, I was the first in the industry to start doing the Free Lifetime Carpet Spotter idea and it was the single best marketing idea I ever came up with. (When it came time to sell my business and retire the fact that thousands of my "Carpet Spotter for Life" were in the hands of my customers added greatly to both the desirability and the price of my company. This was a feature that a new start-up could not match.)
I was the one that brought the "Free Spotter for Life" idea to Jon-Don fourteen years ago when I came on board. (I don't make a nickel off the concept- I gave the idea free to Jon-Don.) To Jon-Don's credit they immediately saw what a great concept it was and were the first in the industry to implement it. And of course, like any great idea, we now have a lot of imitators!
Now it is true, Trying, you CAN "bottle your own". Before Jon-Don started offering their custom labeled Spot-out program I too used to order my own bottles, silk screen them with my logo and info and fill them from bulk a spotter (we used to buy in 55 gallon drums). However, now I would buy from Jon-Don. Why?
1. Labeling laws and all that legal folderol.  Buy from reputable supplier like Jon-Don and we have you covered.
2. Very likely your liability insurance may not cover you as a "bottler and distributor" of cleaning chemicals. Check it out.
3. Very probably you don't have a contract with a private 24-hour poison control center and have it's number printed on the label in case of accidental ingestion by a customer's child.  With Jon-Don you do.
4. It's just another pain to do all this stuff instead of cleaning carpet. And in the process save maybe fifty cents per bottle. (Maybe not even that!)
My two cents and remember that I personally don't make any money if you use the "free spotter for life" concept. But it is just such a fantastic marketing idea. (Even if I did think of it myself. 🙂  Now if you want to make more profit per customer (nothing wrong with that!) just download my Special Report on "Up-selling Scotchgard". You'll make a LOT more money than selling a bottle of spotter!
Steve