Lights!  Camera! Action!  Let's face it- especially in residential cleaning (or restoration) it is all about 'Putting On a Show'!  And just why does this 'dog and pony show' matter?
Because clients that are blown away by your quality/service become ecstatic Cheerleaders that refer your company to everyone they know.  (Or even better rave about you on Google, Facebook, Yelp, Angies List, etc!)  This is why in the SFS seminar you'll learn how to 'WOW' your client! (This concept works even better with traumatized insureds!)
This 'WOW Factor' is built on two things:  1) The professional relationship the technician builds with the client and 2) CONTRAST as in, "Oh my gosh!  Look at the DIFFERENCE!"  That's right- quality in cleaning and restoration is judged on the contrast our eyes see between 'clean' and 'dirty'.  Sooo…
Quickly create a 'Magic Square' of brilliantly cleaned and groomed carpet right in the dirtiest part of the home.  Then just call out, "Mrs. Jones, I did a test area here.  Come see how your carpets are cleaning up".  You are going to be a star! CLICK HERE for my video on how to use 'Magic Squares' during your pre-inspection!
Of course, any movie star needs to get their 'scenery and props' in order.  (And you want to super impress your clients!)  So some 'Magic Square' reminders:
1) Pick a Magic Square open area that is easily visible, has good lighting and is very soiled and crushed down.  (Right off the kitchen into the dining room is a good candidate.)
2) Pre-spray, agitate and make sure your cleaning solution is super hot.  (Either clean a few closets/under furniture or trigger your wand outside.)
3) Clean a precise square (I suggest 18″ by 18″) and leave a great contrasting edge.  Carefully fluff and groom the Magic Square and call your client to check it out.  BINGO! Instant Cheerleader!
So can you do "Magic Squares" in restoration?  Absolutely!  During your walk-through with the traumatized client notice what item they are most worried about.  Then just say, "Let's test this piece for residue removal"  and ease their mind with a wonderful contrast!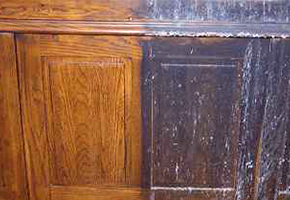 NOTE:  That's what I did with this roll-top desk!  After 10 minutes with some wood cream, steel wool and a cotton towel the customer was "putty in my hands"!
So what props do you use in 'Putting On the Show" in your customer's home or business?
Steve Toburen
Every week we share a timely, practical tip like the above. So if you're not already signed up for these FREE weekly QuickTIPS, do so now.
Also new this week: