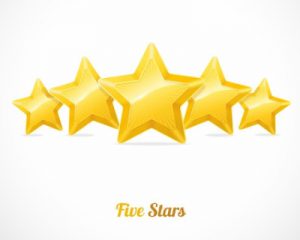 Promoting "word-of-mouth" referrals has always been the most effective business marketing. In our SFS training programs we teach you how to convert "passive referrals" into delighted Customer Cheerleaders! Or even better…
NOTE: No one will give you a 5 star review unless your entire staff CONSISTENTLY delivers "5 star Value Added Service"! So BEFORE you jump into the whiz-bang techniques below download these step-by-step checklists:
Residential cleaning Moment of Truth Checklist.
Water mitigation Moment of Truth Checklist.
1. Mention that "our goal is to earn your five star review" on the initial phone call.
2. In your confirmation email/ cleaning checklist include a link to your online reviews on different sites. (Might as well apply a bit of "peer pressure"!)
3. After your customer thanks you for a great job reply, "It was my pleasure. And if you want to leave us an online review or a shout-out on Facebook I would really appreciate it."
4. When saying goodbye give them a stamped comment card that asks, "How did we do?" and also (subtly) mentions, "If we gave you 5 star service (Notice the subliminal suggestion here!) please let our future customers know about it online!"
5. Include links to locally popular online review sites in your follow-up email.
HINT: After booking the job ask "How did you learn about us?" If they reply, "I was impressed by your online reviews…" just reply, "Oh, do you remember where you saw them?" Include a link to this site in their follow-up email.
NOTE: Be extremely sensitive to any negative feedback re: "customers feeling pressured" to post reviews when implementing the above ideas. Back off if needed!
Steve's "True Confessions" Time: Are you impressed by the above ideas? I (cough, cough) stol… err, I mean learned some of them from an incredible group of cleaning and restoration contractors in our SFS: "Growing Your Business" Facebook Group HERE. (You don't have to be a SFS graduate to join us! Please jump in!)
Steve