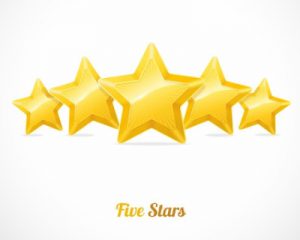 Feeling a bit intimidated by the massive marketing budgets of the big franchise players? Or are you getting beat up by the low ball pricing of your local competition? The little guy (that would be YOU!) can fight back (and win for FREE!) by (gently) promoting five star online reviews!
Here's the deal: Even back in the Dark Ages when I entered the cleaning industry (1969) "word-of-mouth" referrals were by far the most effective marketing. Why? Because housewives (as we called them back then) talked! And especially about a residential services business working in customer's homes.
Today? Home owners still 'talk' but much more widely (and efficiently) with their conversations in social networks and especially with online reviews! So…
Gently encourage five star reviews by creating online "Cheerleaders On Steroids" !
NOTE: No one will give you a 5 star review unless your entire staff CONSISTENTLY delivers "5 star Value Added Service"! (True, in our SFS Training you'll learn how to convert "passive referrals" into delighted Customer Cheerleaders!) Simply put? You need great frontline techs!
RESOURCE #1: Our 3-hour, online SFS: Hiring the Very Best! LIVE seminar will transform your employee recruiting systems. Click HERE for the class curriculum, to see upcoming dates or to easily register online…
But right now BEFORE you jump into the whiz-bang techniques below PLEASE download AND implement these step-by-step checklists:
Residential cleaning Moment of Truth Checklist.
Water mitigation Moment of Truth Checklist.
Now you must develop a subtle system that will (gently) orient and influence your customer to A) recognize your need for online reviews and B) motivate them to want to do so! Start with…
1. Focus your marketing on your five star online reviews. For example, your marketing tag line might be: "The highest reviewed carpet cleaning company in Calistoga County!" And why not continue this 'five star review' on your service vehicles?
2. On the initial phone call. After booking the job in closing use the tech's name and say "Charlie's goal will be to earn your five star review".
3. Follow up this call with a 'How to get ready for your carpet cleaning' email. In this confirmation email/ cleaning checklist include links to your online reviews on different sites. This will A) reassure your new customer they made a wise decision and B) just maybe gently apply a bit of "peer pressure"! ("Wow, my neighbors all gave this company five star Google reviews!")
4. During the the job. After your customer expresses their delight over the incredible difference the cleaning is making in their home simply mention, "It is my pleasure. And if you have time to share this opinion about our service with an online review or a shout-out on Facebook I would be very grateful." NOTE: Do NOT ask for a "five star" review- that is implied!
5. When saying goodbye. Give your customer a stamped comment card that asks, "How did we do?" and also (subtly) mentions, "If we gave you five star service (Notice the subliminal suggestion here!) please let our future customers know about it online!"
6. Always make an Immediate Quality Check call. (IQC) In their IQC conversation with a (hopefully) delighted client your office can reply, "Thank you, Mrs. Jones. And I know it would mean a great deal to Charlie if you mentioned him by name in a Google review." 
7. Include links to locally popular online review sites in your follow-up email. 
HINT: After booking the job ask "How did you learn about us?" If they reply, "I was impressed by your online reviews…" just reply, "Oh, do you remember where you saw them?" Include a link to this site in their follow-up email.
NOTE: Be extremely sensitive to any negative feedback re: "customers feeling pressured" to post reviews when implementing the above ideas. Back off if needed!
Steve's "True Confessions" Time: Are you impressed by the above ideas? I (cough, cough) stol… err, I mean learned some of them from an incredible group of cleaning and restoration contractors in our SFS: "Growing Your Business" Facebook Group HERE. (You don't have to be a SFS graduate to join us! Please jump in!)
RESOURCE #2: You'll learn so much in our different online SFS LIVE seminars! Plus you can implement our concepts easily with our turnkey SFS: 'Business Infrastructure'! Click HERE to see upcoming classes…
Steve