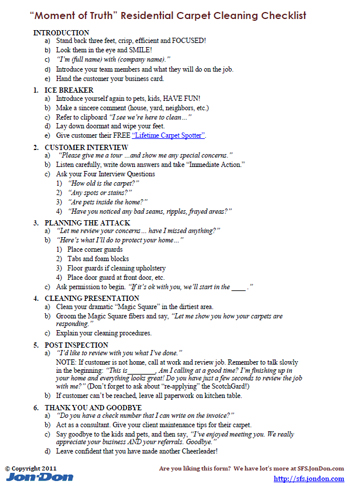 Doing a super-dooper job cleaning the customer's carpets just isn't enough.
To create true Customer Cheerleaders you must go out of your way to build a relationship with the home owner.
Building a relationship did you say … ???
If building a bond with the customer is difficult for even seasoned business owners, how can a production Technician possibly do it?
This Checklist can guide anyone through the process.
Steve Toburen
Download "Moment of Truth Cleaning Checklist"

quickFIX-RESIDENTIAL-moment-of-truth-checklist.pdf – Downloaded 14952 times – 260 KB
Also try the following downloads:
Commercial Moment of Truth Checklist (1886 downloads)
Restoration Moment of Truth Checklist (752 downloads)