"Whoa! We've made it to NUMBER ONE of our TOP TEN List on 'Ways to Make More Money (MMM) From Each Job!'" As we've counted down the TOP TEN over the last 9 weeks I've shared dozens of great MMM tips. But my very best #1 way to MMM from each job reigns supreme …
Obsess over making a "Cheerleader" out of each and every customer!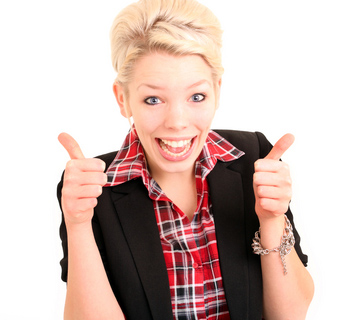 Sure, it is a no-brainer that a Cheerleader is going to extol your virtues to dozens of her friends and business associates. (And now your "Cheerleaders on Steroids" can easily "sing your praises from the roof-tops" to 1,000's of prospects online!) But Cheerleaders not only sell more jobs for you …
They also are delighted to buy more products and services from the company (YOU) that they have come to know and love. (In fact, my Cheerleaders would search out areas and items for me to clean! It was almost like they didn't want me to leave!)
So you really don't have to "sell"- you just need to Make the Cheerleader and they will sell themselves! In fact, I tell every Strategies for Success seminar:  "When you make the Cheerleader everything else takes care of itself." (And that includes "add-on sales"!)
So HOW do you create these essential Cheerleaders? By focusing on the Emotional Dynamics of the job- and at first glance it isn't pretty. After all, what negative customer emotions are lurking in your first time client? Go ahead- list them out…
If you included such emotions as suspicion, nervousness, vulnerability, feeling trapped and invaded and above all being SCARED TO DEATH then congratulations! You have a great set of Customer Eyeglasses! But all too often carpet cleaners and restorers focus ONLY on "gittin 'er done" (production) and completely ignore their client's traumatized feelings.
So want to MMM on each job? Then program into your cleaning routine little "customer reassuring" Moments of Truth actions that send counter-balancing positive emotions. I could run on for pages listing these babies out but this IS supposed to be a "QuickTIP"! So I've listed out 45 positive Moments of Truth in a Residential Carpet Cleaning Checklist. And it is a free download for all our SFS site readers!
NOTE:  We haven't forgotten our restoration contractors either. Click here for your free Restoration Moment of Truth Checklist.
So what Moment of Truth "actions" do you program in to your work routine that put your customer at ease and "Make the Cheerleader"?
Steve Toburen
Every week we share a timely, practical tip like the above. So if you're not already signed up for these FREE weekly QuickTIPS, do so now.