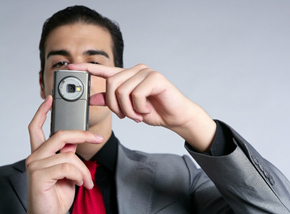 Fine tuning your web site and focusing on your SEO is almost always your best long term marketing investment.  In fact, the Internet allows a small owner-operator to compete with and even beat the "big boys" in marketing carpet cleaning services!  After all, as a smaller company you can better create Cheerleaders.  Then the Internet (with the power of social networks) will turn these delighted clients into "Cheerleader on Steroids"!  Here's one technique to share the love …
Prominently feature customer's "reviews" on your web site.
Video reviews are great if they are a) short and b) don't appear "scripted". It is OK if the customer is a bit halting in their delivery as it adds credibility.  Just make sure they stay on track and are understandable.
NOTE:  I much prefer the word "reviews" instead of the more common "Customer Testimonials".  Why?  A) The Amazon Factor of the one to five star review of an item or service.  (If you've ordered from Amazon.com you well know how reassuring 70 or 80 five star reviews are!)  B)  The word "testimonials" carries a tinge of being "canned" and not totally impartial.  In fact, the argument can be made for leaving one or two critical reviews up on your site along with your reply on what you did to resolve the matter.  One or two negative reviews will make your many five-star reviews much more believable and won't damage you as long as they are in the tiny minority!
Remember to include a short plea to all your customers in your follow-up Quality Check email-  "IF you were delighted with our work would you please support my small business with an online review?"  Then "make it easy" for your customers to give reviews by including clickable links to Yelp, Angies List, Google Places, etc.  (Include brief instructions on how to leave an online review.)
Steve
PS: Of course, all the links in the world won't move your customer to leave a glowing online review UNLESS you Make the Cheerleader by delivering great Value Added Service! So how do YOU motivate customers to give you online reviews?
Every week we share a timely, practical tip like the above. So if you're not already signed up for these FREE weekly QuickTIPS, do so now.