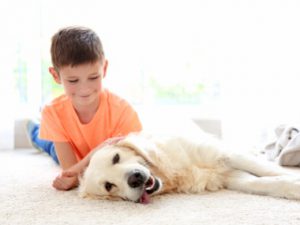 Never forget that customers respond much more to an "attitude of care and concern" than to what pre-spray you use!  And nothing "concerns" home owners more than the two things they love most- their children and their pets.  (With some of my customers I was never sure which group came first!)
So program in to your Service Systems positive Moments of Truth focused on the home owner's kids and pets.  For example …
1.  Always ask in the Initial Phone Format if there will be children or pets present.  Mention that "we love kids and pets but small children shouldn't play on the carpet while it is damp".  NOTE:  Remember, carpet is NEVER "wet" after cleaning, only "damp"!  But we'll talk more about the home owner's kids next week.  Now about those pets …
2.  Also ask if it is possible to "secure" the pets for their safety.  Many times the customer will say they'll put the cat in the bathroom.  (Probably freaking out.)  We kept small  "Kitty Can't Cope" bags filled with potent catnip on each truck.    After checking with the customer, our tech would throw a bag into the bathroom for the cat.  Customers and "cat people" in particular really love it when you show you care about their cats!
3.  With dogs it is always good to show interest in their breed, age and ask the owner if it is safe to pet them.  In fact, we would also carry dog biscuits on the van and the tech would ask the homeowner if he or she could give their dog a treat.  Once again, a great Moment of Truth for a pet owner!
NOTE:  I always tell our SFS classes that the dog biscuits in our vans served a dual function.  If our techs had to work late and needed a quick source of protein …  🙂
Steve
P.S.  When a carpet cleaners says "I love pets" to the home owner this is always the truth!  After all, these furry little balls are the reason your customers call so often!  But could you be missing some great profit opportunities out there in the world of pet problems?  Check out this great DVD training package- "How to Make Money in Pet Odor Removal". It comes with a 100% no-questions-asked money back guarantee.