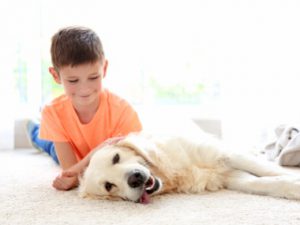 Your customers will love your 'attitude of care and concern' much more than your technical skills!  (Even though of course you should always 'do a good job'!) And nothing 'concerns' home owners more than their much-loved pets.  (With some of my customers I was never sure whether they loved their pets or their kids more!)
So program in to your technician's Service Systems positive Moments of Truth focused on the home owner's pets.
For example …
1.  Always ask in your Initial Phone Format if the home owner has pets. If so, just smoothly reply, "We love (type of pet). However, for their safety and peace of mind we request that you secure them away from the cleaning area. Will this be possible?"
NOTE: The above is one more Valid Business Question (VBQ) that gently forces your inquiring phone prospect to 'invest time' in their over-the-phone-transaction with you. Simply put, the more time your prospect spends on the phone answering your VBQ's the more they will want a 'return on their investment'! The only way to get this 'ROI'? Book the job (or pre-inspection) with you!
2. 'Introduce yourself' to the pets. After introducing themselves to a new (and usually nervous) first time customer the tech should 'break the ice' a bit. When the customer's pet is present the tech can ask the pet "And what's your name?" (Customers love this and it goes a long way toward putting them at ease.)
3.  With dogs ask the owner if it is safe to pet them.  Either way, show interest in their breed, gender, age and general welfare. ("You're a healthy boy, aren't you?")
4. Carry dog biscuits on each van. When the work order mentions dogs will be present the tech puts a few gourmet dog biscuits (yes, there really is such a thing!) in their pocket. After talking to (and if possible petting) the dog(s) your tech should ask the homeowner:  "I love dogs. Can Rover here have this dog biscuit?" Your client may reply that Rover is on a special diet but either way this exchange is a great Moment of Truth for a pet owner!
NOTE:  I always tell my SFS classes that the dog biscuits in our vans served a dual function.  If our techs had to work late and needed a quick source of protein …  🙂
5. Make friends with the cats too. Cat lovers will often put the cat in the bathroom.  (Probably freaking out.)  So we kept small 'catnip toys' filled with potent catnip on each truck.  (Bought in bulk these toys are less than two bucks each!)   After checking with the customer, our tech would toss a catnip toy into the bathroom for the cat.  Customers and 'cat people' in particular really love it when you show you care about their cats!
So how do you make friends with (and protect yourself from) customer's pets? Share your tips and your war stories with the thousands of cleaning and restoration contractors in our Strategies for Success: Growing Your Business Facebook Group. (You don't have to be a SFS graduate to join us!)
Steve
P.S.  When carpet cleaners tell the home owner "I love pets!" this is always the truth!  After all, these furry little balls are the reason your customers call so often!
But could you be missing some great 'pet profit opportunities'?  Check out this DVD training package- "How to Make Money in Pet Odor Removal". It comes with a 100% no-questions-asked money back guarantee AND qualifies for one IICRC CE credit every time a tech watches it!