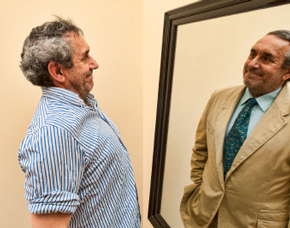 It's one thing to demand your employees create good impressions with your customers. But you must also give them the "tools" to make it happen. This passion for creating Customer Cheerleaders should be a company wide philosophy AND yes, even an obsession on your part. So how can you achieve this OCD approach to "making the Cheerleader"? By creating Systems that promote "Cheerleader Awareness" with your employees. Here's an example …
Install a full length mirror on the door leaving your office with a sign over it saying, "This is what your customer will see."
You can custom tweak this technique depending on the work your employee is doing. For your phone people the reminder could say "You can hear a smile". Or for your carpet cleaning technicians "Would you become a Cheerleader for this person?" When it comes to Making the Cheerleader my guiding light was, "If you want it to be important to your employees it must be important to you!" The key is constant, gentle repetition and reminders (nagging?) on your part and yes, mirrors can help!
Steve Toburen
PS:  Don't forget a mirror for YOU as you leave the house!  In fact, how do you dress for the day?  I'll wait for your comments below!
Every week we share a timely, practical tip like the above. So if you're not already signed up for these FREE weekly QuickTIPS, do so now.