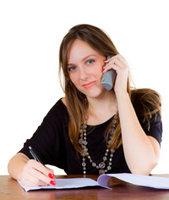 The Internet is a two-edged sword for all of us.  We love the free advertising our "Cheerleaders on Steroids" give us with their glowing online reviews. BUT now even slightly disgruntled customers will immediately trash you with a negative review on Angie's List, Yelp and Google+ before even giving you a chance to correct their concern.
You must "head these trigger happy folks off at the pass" by reaching out to them BEFORE they can make it to their computer keyboard!  So let's tweak the venerable Quality Check phone call that SFS has been preaching for years…
Your technicians should call in as they leave the home with a brief report on the job.  Then the office should IMMEDIATELY make a Quality Check phone call to the client verifying that they are delighted.
Now one of two things will happen.  (Both good.)  A) An unhappy customer will vent to you before spilling their venom online or B) you create one more great Moment of Truth with an already delighted home owner!  NOTE:  A "neutral third party" (not the person who did the work) should make this Quality Check call.
Restoration HINT:  Before leaving for the day place a signed form with all the work your crew has done by the front door.  Set up a regular time every day to call the Insured as they walk the job with your list in hand. (Better for them to dump on you than call the adjuster!)
Commercial HINT:  Make a "preemptive strike" by fixing a little problem when you check the job and then tell your commercial contact what you discovered (and fixed) before they find it!  (Show them a before and after photo.)
Steve
PS  So how do you deal with negative online reviews?
Every week we share a timely, practical tip like the above. So if you're not already signed up for these FREE weekly QuickTIPS, do so now.
Also new this week: