Hi Steve,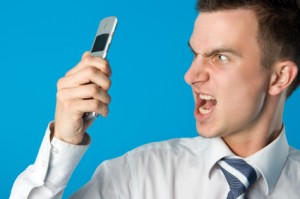 I read somewhere in one of your articles that you recommend calling back after the carpet cleaning job to make sure everything was fine.  So we started following up to ensure satisfaction. BUT 90% of the time we get an answering machine!  Grrrr!  Anyway, there is a new service available that will allow me to record my script, in my voice, and it will call all my cleaning customers that I program in to the system.  This would be a simple automatic follow up call and would save me loads of time. What are your thoughts on automated systems to make follow-up calls?  I'm just getting tired of the voice-mails/ answering machines, ya-da, ya-da, ya-da!
Impatient in Omaha
Dear Impatient,
You aren't going to like what I say.  But puhleeeease don't inflict a tape recorded message on your cleaning customers!   If you can't afford to invest two or three minutes to call your clients the next day after they have trusted you with their home then you are either a) not charging enough or b) have waaay more money than you need so why the heck are you still bothering to clean carpets???
On the other hand I too hate inefficiency.  So here are a few ideas for you on how to make what we call in Strategies for Success "Quality Check Calls":
1.  Who was it that said "the amount of time that a task requires expands to fit the amount of time available"?  So are you getting maximum use out of your people in the office, Impatient?  One idea would be for you to make the Quality Check calls one day yourself. Time them overall and average out how long a call should take. Then set that as the bench mark for your staff.
Once you know how long the process should take you just say, "OK, Suzy, we've got 14 QC calls today at three to five minutes each. So you should be available again for computer work by 10:00. Right?" Employees all do better with a reasonable deadline that will  "hold their feet" to the fire. ("Accountability" works wonders!)
2.  Make sure your initial phone script asks the customer if you can make a brief "Quality Check Call" to them at work on their cell phone the day after the job.  Then check the "permission to call at work" box on their work order. Calling your customers at work (with their permission) is a great way to speed things up.
3. So what if you get the customer's answering machine or voice mail? Just leave a warm, friendly, PERSONALIZED message and move on. Anything is going to be better than an automated phone call!
Remember that the Value Added Service you learn in SFS focuses on the Emotional Dynamics of the job.  In other words, 80% of how the customer decides if you have done a "good job" or a "bad job" is based on how they FEEL about the person doing the work and of course the service company as a whole.  Simply put, especially when working in people's homes, it is all about building a relationship- which obviously is much easier with a live person on the other end of the phone!
Steve
P.S.  By the way, Impatient, in our Strategies for Success seminar you receive all the systems, procedures and scripts to set up your Quality Check program.  One of these days I need to do up a Special Report on this subject and add it to our ever growing list of Special Reports .  But until then- you'll just have to come to SFS!