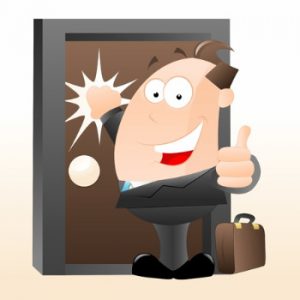 "Congratulations! You're here! You made it!" (Said in my very best Jimmy Fallon "Tonight Show" voice!) Congratulations! You're on-site ready to "pre-inspect" your first-time customer's home! (We'll talk about commercial sales soon!)
Remember, this 5-step sequence should be performed the first time you price a any job- whether you make my recommended "pre-visit" or are pre-inspecting and doing the work at the same time.
Even on a small job the stakes are HUGE here! Just like an actor on a stage- you must form a bond between you and your audience- your prospective client. So…
Follow a "Preinspection Format" instead of just "giving 'em an estimate".
Yep! I'm talking a script here! But this isn't a word-for-word "verbal straitjacket". Instead, this 5-step "Preinspection Format" is just an outline helps you convince your prospect that they can trust their home to your company! Let's get started!
#1: Introduce yourself. Your prospect subliminally decides if they like you (and your company) in the first 30 seconds. So "break the ice" by sincerely complimenting them on their home or neighborhood.
NOTE: Everyone in your company (including you) should wear a clearly visible photo I.D. badge.
2) Ask for a "tour": "Mrs. Jones, would you give me a tour of what we'll be working on- and as we go please show me any areas of special concern."
NOTE: As you step in to the home slip on shoe covers. (Or just take your shoes off!)
3) Ask permission to "pre-test": "I see you're concerned about this high traffic area. May I test it to see how it will clean up?" HERE is how to "pre-test" a dirty carpet.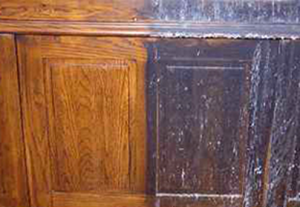 Restoration HINT: "Testing for residue removal" is a great way to impress and win over an Insured.
4) Keep your prospect occupied while you measure. "While I'm writing up things up let me leave you with this photo album (or tablet) of other work we've done." (A picture really is worth 1,000 of your words!)
5) Close the sale: Simply review your recommendations and pricing. (You should also qualify any pre-existing problems.) Then make it easy for your prospect to say "Yes!" by asking: "Now are we working with any deadlines…?" Click HERE for my 3-Step "Closing the Sale" Sequence.
NOTE: Click HERE for my (free) complete Carpet Cleaning Pre-Inspection Format!
Steve