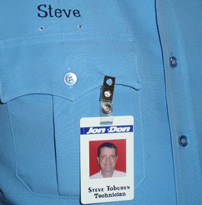 So what is the single biggest emotion your new residential customer feels as they wait for an unknown technician? FEAR! That's right, home owners are scared to death!😲 (And given the horror stories about techs who can blame them?)
NOTE: This is why the big national franchises advertise "we don't use sub-contractors" and "we do background checks." But you can do better for just $5.00!
All employees (including owner/operators) should always wear a photo ID badge!
A photo ID badge calms a "first-time customer's fears".💖 But they also are cheap marketing! Heck, people would ask my workers at Burger King for a business card! HINT: ALL your employees should have their very own personalized business cards!
Bonus QuickTIP: Use technician photo ID badges that have a pocket on the back to store a few business cards. Your techs will always have clean and dry cards with them. (Much better than crumpled up in a sweat-soaked wallet! YUK!)
RESOURCE: You'll get 100's of new hiring ideas and systems in our 3-hour, online SFS: Hiring the Very Best! LIVE seminar. To learn more and/or easily register online click HERE.💲💲💲
NOTE: Just Google the phrase "Photo ID badge" to see a wide gamut of online sources. Prices run around $5.00 to $10.00 per badge. And always buy two badges for each worker. It's inevitable that employees will lose/forget them!
Steve Toburen

P.S: So what "customer reassuring tips" have you implemented in your daily operations?
MORE HELP? You'll learn so much in our different online SFS: LIVE seminars! Plus you'll implement our concepts easily with our turnkey SFS: 'Business Infrastructure'! Click HERE to see upcoming classes…
This week's FOCUS: Jump start your social media marketing

How carpet cleaners can dump their "Facebook guilt" forever …

Move your cleaning website to the top of Google's Local Listings

How to get positive online carpet cleaning reviews

Social Media for over 35 (and counting) carpet cleaners!

How "Duct Tape Marketing" can help a small carpet cleaner …

Download: Advertising on Facebook For Carpet Cleaners

Download: How to dominate Google Places for carpet cleaners – step by step!
Also new this week: