One guiding principle of Strategies for Success is that technical expertise accounts for only 20% (or less) of your business success. If you can't get the phone to ring, then all your cool cleaning equipment, chemicals AND technical knowledge will just waste away in your shop!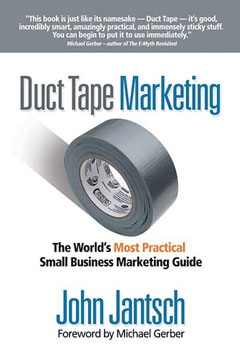 One of MY favorite sayings is that "marketing rules the world." John Jantsch in Duct Tape Marketing agrees when he opens his book with, "If you get nothing else from this book, get this: you are in the marketing business."
Your challenge as a small carpet cleaner is that most marketing training is designed for large companies. Take this definition from the Columbia Encyclopedia:
"Marketing, in economics, that part of the process of  production and exchange that is concerned with the flow of goods and services from producer to consumer."
Yawn!  This definition sure makes me feel all warm and fuzzy inside! On the other hand, Jantsch is the champion of the little guy. Forbes recognized his marketing blog as the best blog for small business. Listen to how plain-spoken Jantsch is:
"Marketing is getting people who have a specific need or problem to know, like and trust you."
Does that sound too easy? After all, getting business is probably the hardest thing you do.
The problem is few carpet cleaners enjoy marketing so they look in the Yellow Pages or on the web and try to make their ad look like all the other loser ads. John Jantsch calls this "copycat marketing" and it is insane.
You will spend three of your five days at SFS learning systems that will create "Customer Cheerleaders".  The central theme of Duct Tape Marketing is that effective small business marketing is just another system (not a single "event"!) composed of simple, effective and affordable techniques like the ones Steve Toburen will teach you in SFS.
In an interview for Seth Godin's blog Jantsch distilled his ideas into a Top Ten Marketing List:
1) Narrow the market focus. Create a picture of the ideal client: what they look like, how they think, what they value and where you can find them. (Pizza Huts or Uncle Bud's All-You-Can-Eat Catfish Buffet may not be your ideal clients. Start saying "no" to non-ideal clients. They suck your energy.)
2) Differentiate yourself. Strip your service down to the simplest core idea. Make sure that this core idea will allow you to stand out. Remember that "offering the lowest price" will not make you stand out except in the unemployment line.
3) Now strategize. After performing steps one and two, your strategy is to "own" one or two emotional words in the mind of your ideal client. Ask yourself, "How do I want my customer to feel about my company?"
4) Create information that educates. Think of your marketing materials, websites and marketing kits as information products, not "sales" propaganda. Ideal clients want to be educated.
5) Package the experience. Use design to evoke an emotional response from your ideal prospect. Involve as many senses as possible in every marketing activity.
6) Generate leads from many points. People learn about you in different ways. Your lead generation must allow your prospects to experience your company from many different angles and views. (Hint: Performing community charity work will allow you to attract clients that you may not otherwise reach.)
7) Nurture your prospects. You must "shepherd" your potential customers  along the logical buying path.  So analyze the natural way that your prospects realize that you have what they need. Build your lead conversion system for before, during and after the sale.
8) Measure what matters. The secret is in finding and measuring the intangibles – those things on your service vehicle or in your office that eventually add up to profit. How many free replacement bottles of Spot Out have your clients requested?
9) Automate for leverage. Embrace the Internet immediately – not when you find the time. Create easy access, stimulate community and pre-deliver knowledge by automating the basic delivery of your "information business."
10) Commit. Resist the temptation of the "marketing idea of the week!" Believe me when I say that bowling score sheets, grocery receipts, etc. aren't the place for your message. Create daily, weekly, monthly and annual marketing calendars, make marketing your new habit and find the money to stick with the plan.
Jantsch lists nearly 50 books he researched for Duct Tape Marketing. I was amazed at how many of these volumes have been reviewed here in the SFS website Big Billy's Book and Blogs column.
Since systems are heavily stressed in Duct Tape Marketing it comes as no surprise that Jantsch spent many years as an E-Myth consultant and the Foreword is written by the systems king, Michael Gerber. The afterword is written by Guy Kawasaki, author of The Art of the Start and a great business blog . It is hard to find better company.

I found this quote on Amazon.com reviewing Duct Tape Marketing: "I teach a marketing class at Lewis-Clark State College and it is the required text for my class. Why? Because my students will learn in one semester what most students in a "traditional" marketing degree program won't learn in four years."
For those of you down in the trenches in the carpet cleaning front lines I think the one semester approach is a much better idea!