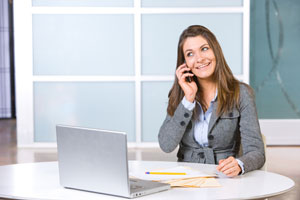 So you have dumped your "Displacement Activities" tendencies and made a sales call! (GOOD!) You introduced yourself, measured the job, shared your proposal and now you must "Ask For the Order"! (AFO) And yet closing the sale can be a huge obstacle. Why?
Due to your dreaded "Fear of Rejection" you keep talking in circles instead of "popping the question" and so… you don't get the job!  Here's how I made it easy for my client (and me) to "get to yes"!
RESOURCE: You face the same issues in closing over-the-phone or by text, etc. Get 90 pages of SFS systems and scripts in our 3-hour, online SFS: Winning over your caller! LIVE seminar. Click HERE for the class curriculum, upcoming dates or to easily register online…
During our SFS Carpet Cleaning Pre-inspection Sales Format you'll get your client's input on every point! Yep- they've been giving you a steady stream of "yes's" all along!  So you have nothing to fear by using…
Steve's 3-Step "Make It Easy to Say YES" AFO Sequence
After you have followed my first four pre-inspection steps: 1. Introduce yourself, 2. Break the Ice, 3. Ask for a tour/do your "Show and Tell test" and 4. Review their specs and pricing just SMOOTHLY (show no fear here!) ask…
1. "Now are we working with any deadlines on getting this work done?"  SHUT UP and wait for your client's response.
NOTE: If the answer is "No, any day works" you have your "YES"! On the other hand, if they say, "Well, I'd like it done before my party next Friday …" even better!  But if the answer is sort of vague just move to my second Closing Question …
2. "Is there a day of the week that is better or worse for you?"  Once again, SHUT UP and wait for their answer!  If they reply, "Tuesdays are really crazy around here" you have your  "YES"!  If the answer is, "No, any day works this week" you've still got a "YES"! No matter what their responses have been you now say …
3. "Great!  Just let me call the office (or "check my schedule on my tablet") and see what dates and times we have available." HH Done!  Guess what? You just closed another job with my 3-Step AFO Sequence! NOTE: HERE is how to use this AFO trick over the phone.
Restoration HINT: Especially with a flooded home you shouldn't have a problem with the insured saying "Yes"! (After all, they're screaming, "Get this water out of my living room!") Yet you still must help your techs structure these first hectic minutes with this "Water Mitigation Clipboard Procedure" HERE. (Download this free Water Damage Customer Interview Form HERE.)
Commercial HINT: This 3-Step AFO Sequence works great when closing commercial work. Yet you need one more "yes" from a new contract account when you ask for a key! HERE is how to get the key with my "Open Access" trick! And don't forget the "magic of encapsulation" in commercial cleaning!
Steve
PS Does this "3-Step" closing the sale sequence ALWAYS work! NO! Sometimes your prospect will reply, "Let me check with my husband/ boss/ Board of Directors…" How can you still "Get to yes"? HERE is how to overcome a "Smoke Screen Objection"!