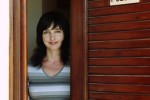 No time is more important than the first two minutes after you (or your employees) ring the customer's doorbell.  Yet in my own home I'm always surprised how few service technicians bother to introduce themselves properly.
So sad because these clueless techs are probably hardworking and technically skilled employees.  But when you don't present yourself correctly it gets the job "off on the wrong foot".  So teach your technicians (and yourself!) this simple 5-Step Introduction Sequence …
1.  Ring the bell and step back six feet from the door.
2.  When the door opens smile at the customer and look them in the eye.
3.  Introduce yourself with your first and last name, company name and why you are there.
4.  Hand the customer your business card.
5.  Introduce your co-workers using their first and last name and explain what they will be helping with in the client's home.
Simple, right?  And yet few carpet cleaning technicians actually follow this sequence.  So insist that your employees use this 5-step Introduction Outline with any customer they don't know personally.  (If a tech has been cleaning a client's home for years then obviously the transaction will be much more informal.)
Post this 5-step Sequence in your office and tape it on the dash of all company vehicles.  Then reinforce it by role-playing in company staff meetings and your on-site training seminars.  (Jeff Cutshall burns the 5-Step Introduction Sequence into your employee's minds during our Value Added Service for Technicians (VAST) seminar!)  Oh, and don't forget to do the "Five Step" yourself!
Steve
Note: Every week we share a timely, practical tip like the above. So if you're not already signed up for these weekly QuickTIPS, do so now.
This week's FOCUS: Get your phone to ring

Groupon: Does it work for carpet cleaners?

A phone not answered is money lost!

Should I "stoop to the level" of my cut-throat carpet cleaning competitors?

Make it a "horse race" with your carpet cleaning door hangers …

Use "sound" in your carpet cleaning marketing strategy

"What's It Going to Take to Persuade You?"

Download: Carpet Cleaning Inspections That Sell!

Download: 12 Secrets to Success in Carpet Cleaning
Also new this week: