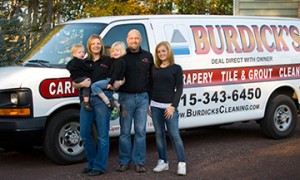 So many things in our company have been going great!  We've greatly streamlined our office and paperwork.  Plus John and I are investing in our personal growth. And our SEO and website are finally producing lots of jobs.  But all has not been smooth sailing at Burdick's Cleaning …
For example, we still struggle with finding the right employees.  (John has been a very successful owner-operator for many years but we know we need to grow.)  We learned the hard way the last time we hired someone.  We followed some of the SFS procedures on hiring but not all of them and it bit us big time!  We should have followed the tried and true systems from the Monday program at SFS and we could have avoided a lot of grief.  Some lessons you just have to learn on your own!  (But I digress and will update everyone on our whole sad past employee situation some other time).
I didn't want to make the same mistakes twice in our new employee search.  So we developed a really strong specific posting for the position (using stuff from SFS) and definitely received a larger response and applicants that were of much higher quality.
For example, we actually posted NO EXPERIENCE PREFERRED in caps and in bold right in our position advertising.  Even so, you wouldn't believe how many unemployed carpet cleaning techs STILL came out of the woodwork and called us.  All promising they could do it our way!  Yeah, right!  This is what happened with our last employee.  Foolishly we believed him.  Well, we learned you can't teach an old dog new tricks!  (And this was only part of our issues with the last guy!)
Due to the abundance of calls applying for the job we wanted to weed out most of them over the phone.  So we used the SFS "Telephone Screening Tool" to check off their work history, attributes and personality.  Then at the conclusion of the call we explained that we were overwhelmed with the response to the ad.  But then for those who passed the Initial Phone Screening we right then invited them to fill out an application and interview.  For the ones who failed the Screening we explained that we'd be calling back people we wanted to interview.
Since John and I still run the business out of our home we didn't want all these people in our house.  So we held the interviews at a coffee shop inside our local supermarket on Friday between 2-4.  We explained that it was going to be an open house format to fill out an application and have mini interviews with John and I.  We had 11 enthusiastic people who told us over the phone they would be there.  Great!
However, being ever-cautious I told John we should probably expect only 7 or 8 to actually come to the open house.  Guess what…  Only 3 out of the 11 actually showed up!  We were very surprised.  But looking on the bright side it allowed us to conduct full first round interviews with all three.  There are two we are bringing in for a second interview.  (The third applicant would have been great as the second tech on a truck but doesn't have what it takes to run a truck on his own and that is what we are looking for right now.)
If both of our candidates perform well in a more in-depth interview we are going to ask both of them to spend a day working (separately) on the truck with John.  Since neither of our top applicants has any previous carpet cleaning experience (thank goodness!) we want them to see if this type of work is truly for them.
Our struggle (since we don't have commercial work or do a lot of restoration at this point) is how to keep someone employed full time on an hourly basis.  We obviously want our employee(s) to make a decent living.  We also want to not have to lay them off during the slow season and find other work after we have invested so much in them.  So that is my current puzzler I am gnawing on.  I'd love to see some comments from our SFS site readers on how they have "made the jump" with their first full time employee.
Meg