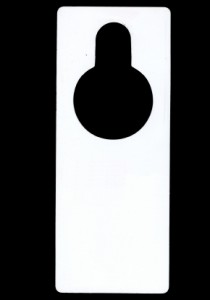 Our last two quickTIPs have focused on some oldy-but-goody marketing techniques like putting out carpet cleaning door hangers and refrigerator magnets.  And what's not to like? Cheap, quick, effective and nothing is more "targeted" than physically getting your marketing message into your prospect's home.  All these on-site marketing techniques worked great when my partner Chris and I were on the truck. After all, as the two owners of the business we were MOTIVATED!
Then we grew. (At least partly due to our door hanging efforts!) And disaster struck! Our technicians just wouldn't put out carpet cleaning door hangers. (Or anything else except clean carpets.) So it was time to put on our "Employee Eyeglasses" and figure out how we could "git 'er done" with our carpet cleaning technicians.
1. We made it "easier to do it right than wrong" for our technicians. So instead of storing our carpet cleaning door hangers and refrigerator magnets hidden away in a box on the truck ("out of sight- out of mind") our dispatcher would put five door hangers and clipped on magnets in each Job Folder when she made up the Daily Production Sheet the night before. (Don't know about Job Folders or Production Sheets? Well, you'll just have to attend SFS!) Now the Door Hangers were staring the tech in the face when he opened the Job Folder! And if they were returned in the Folder the Operations Manager would chew the technician out. It takes constant reminders (nagging?) to make things happen out in the field.
2. Everyone likes to play a "game". Even with all this nagging we were hitting the wall. And then inspiration struck! We motivated our techs to actually put out the door hangers with a contest! We added a line on the door hanger's coupon for an an "Authorized Signature." The tech would sign the ones he put out and we made a "horse race" out of it by tracking daily results on the returned door hangers with a chart in the office. The competition was fun plus the monthly winner got a dinner for two at one of the nice restaurants we cleaned. We would also track results over every three months and the quarterly winner won a crisp new hundred dollar bill!
These steps did not work ALL the time (what does with employees?) but our carpet cleaning door hangers distribution went up dramatically and so did our business! Sometimes the old fashioned basic stuff does work!
Steve
P.S: Help your employees appreciate their role of salespeople in the field. How? The VAST Seminar for Carpet Cleaning Techs. Call 1-800-400-9473 today.