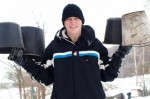 A big part of success is simply doing what you have promised. This includes seemingly simple things like being on time and doing a "good" cleaning job. Sounds easy, right? Nope!  Old Man Winter makes life a bit more challenging for carpet cleaners!
So how can you avoid negative (and even potentially dangerous) Moments of Truth in cold winter climates?  For example, your solution, fresh water supply and pump-out hoses are always full of water when you finish the job.  The problem?  They then drain out on the customer's driveway creating a very unwelcome skating rink!  (And of course full hoses are much heavier to carry plus can easily freeze solid too.)  So here's a QuickTIP solution:
At the end of each job always plug a a set of male and female "straight thru" quick connects (Jon-Don's got them in brass and stainless) into each end of your solution hoses which allows you to quickly suck the water out of them with your vacuum.  Then follow suit with your fresh water hoses and pump-out hoses.
So there you have it. Quick, safe, effective and easy! Don't let Winter get you down. With TIPS like this one you'll avoid negative Moments of Truth and make the Cheerleader even when it is ten degrees outside!
NOTE:  So how do you "survive" the winter?  Share your cold weather production tips in the comments section below.  After all, we are all in this together!
Steve
P.S: Many cleaners count on the steady income of regular contract commercial work during the "winter doldrums". Here's a primer on building the commercial side of your business.