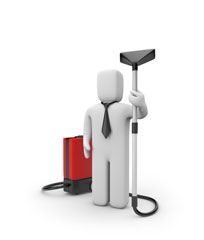 We spend the entire Value Added Service for Technicians class (VAST) I teach discussing the Emotional Dynamics of cleaning for a residential customer, usually a woman. And yet as much as I love residential, I have to admit that commercial work offers some serious advantages to a carpet cleaner.
There is no question that cleaning commercial carpet is certainly different (and in some ways much easier) than residential.  However as we teach in the Strategies for Success seminar, it still comes down to building relationships by providing Value Added Service. So if you're not tapping in to the commercial market yet here are a few reasons to strongly consider it.
Steady income. True, not all businesses will have their carpets professionally cleaned. But statistics prove by far that more businesses will have their carpets professionally cleaned than will residential homeowners. As SFS instructor Chuck Violand (more about Chuck) always says, "I'd rather have 40 nice commercial accounts than work for 400 residential customers."  Of course you can have both if you want to!
More profitable. With commercial carpet cleaning you can explore faster and more economical methods of cleaning, such as encapsulation. True, you'll still need your portable or truck-mount for an occasional hot water extraction flush.  But for the interim maintenance (where you really make money!) you can use equipment like the Cimex, Procaps or even a standard 175 rpm buffer. It's nothing to average 2,000-3,000 sq. ft. per hour when using encapsulation type cleaning. Do the math! Even at very low per square foot prices you can make a killing!
No slow season. In many parts of the country residential carpet cleaning comes to a screeching halt in the winter. With commercial work you'll probably be even busier in the winter! Businesses need to have their carpets maintained all year long. When the snow, rain and muck start piling up it's essential to have these customers set up a maintenance program to keep their carpets looking great all year long.
It's almost too easy! With commercial carpet cleaning it comes down to 2 simple things. Do WHAT you say you're going to do. And do it WHEN you say you're going to do it!  No touchy feely stuff as the Emotional Dynamics are much less complicated. Sure, in addition to a smile you'll need to wear a clean crisp uniform with neat, well maintained equipment. (That's where Jon-Don can help). Even better, unlike residential customers, commercial customers are so busy most don't have time to nitpick your work. They just want their carpets cleaned at a reasonable cost. Once they hand the job over to you they can concentrate on their more important duties.
Don't be fooled though. Even with commercial carpet cleaning customers it still comes down to building relationships. However, you'll be cleaning more square footage AND you'll be cleaning it more frequently. Plus, you'll be using equipment that's faster, easier and less expensive to operate. Which means you'll have more fun and make more money!  What's not to like?
Jeff Cutshall
VAST Instructor (get info on upcoming VAST classes)
PS:  Almost every carpet cleaner I talk with would like more contract commercial carpet cleaning.  and yet many don't DO ANYTHING about it!  Steve Toburen has come up with a great solution for you- a step-by-step program on how to sell commercial contract cleaning.  Even better, his Report is FREE!