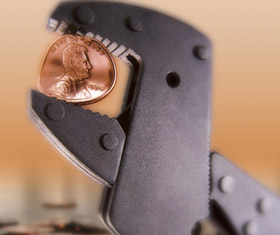 No matter how successful you are, all cleaning and restoration firms do well to "pinch pennies".  As Chuck Violand reminds every SFS class, "It is so much better to cut $10.00 off your bottom line than do an extra $100.00 job!" For help on economizing in business we turn to our strategic partner, Chris Gripp of Sign Warehouse fame …
One great way to cut your overhead is by finding free (or nearly free) tools on the Internet that are just as effective as paid versions.  For example, this software will make your company more productive AND do so without breaking the bank …

1. Google Apps for Business-  Businesses with fewer than 50 employees can take advantage of Google Apps for Business which gives you free e-mail under your organization's domain name. If you don't already have a domain name, Google will get you one for just $10.00. With Google Apps you can also get your own Google Docs system and Google Calendar system … all free.

Zero configuration, no maintenance, the usage of Google's computers, and spam filtering are all just a few of the benefits. The caps on the free version are pretty reasonable: 50 user limit, max of 500 sent emails a day, and attachments limited to 25MB. But, if those limits are an issue for you, you can upgrade to the Premier Edition for only $50 a year!

2. Dropbox-  This tool lets you save items in a folder on your computer that automatically connects to the cloud. Dropbox is perfect for backing files up, storing, and sharing files remotely. By using a shared folder between your computer and another user you can transfer larger files with ease. Another great feature is the ability to store things in a public folder and then create a link that non-Dropbox users can use to access and download the intended file.  (Steve's note:  Think of the power of this app for sharing information on losses with adjusters.)  Dropbox makes storing and sharing information easy, it is secure, and you get 2GB free. (If you want to get 50GB of storage the cost jumps to $10 per month, and 100GB of storage will cost you $20 monthly.)

3.  Linux-  As a non-technical computer user most of us don't even consider it, probably because we already paid for Windows with our computer(s).  However, why not give Linux a try for its file servers?  If you use Windows you know that Windows Server licenses aren't cheap, but by getting Ubuntu, the most popular form of Linux, you have the ability to serve an unlimited number of client computers. Give it a shot – Try downloading Ubuntu Server here.

4. Security Essentials software-  Many love AVG free antivirus software for their home computer.  However your office needs may be met with (Are you ready for this?) Microsoft!  That's right, Microsoft just made its Security Essentials software free for small businesses. It covers up to 10 office computers and does a fine job catching those viruses. While it may run a little slower than other antivirus software the free thing may help you put up with the speed.

5. Free Office suites- Microsoft Office is a traditional favorite, however there are solid free choices out there, such as OpenOffice.org, with the current version of Go-OO being the best. This version supports Microsoft's newer XML-based file formats such as DOCX and XLSX.
Check these free resources out.  Plus you have already found the best free supply of help for the cleaning industry right here at SFS.JonDon.com  So check in with us daily for your "information fix"!
Steve
PS  Wow!  There is a "whole lotta free" listed above!  Yet maybe the best "free" out there is Jon-Don's Strategies for Success seminar. Five intense (some attendees say "brutal"!) days of concepts, systems and procedures just for the cleaning and restoration industry.  Free?  That's right!  Free!  The entire SFS seminar is free to any cleaner that spends just  $5,000.00 on anything from Jon-Don over the 12 months before their seminar.  (Or spend $3,000.00 and your seminar will be half price.)  I always say, "Ya gotta buy your 'juice' from somewhere.  So why not buy from Jon-Don and get the SFS seminar thrown in for free?"