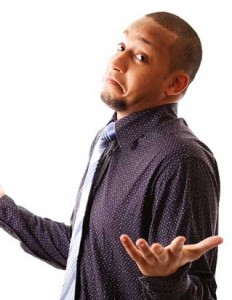 Hi Steve,
I really liked your Special Report on "How to Sell Commercial Work". And your "Commercial Carpet Analysis" form that helps me interview the prospect is great. But I need a bit of advice- What rule of thumb should I use to deduct for desks, filing cabinets, etc. when measuring offices to figure the actual sq. ft. of carpet cleaned for pricing and production rates? My first thought was about 15-20%. Does that sound about right?
Timidly Entering Commercial in Columbus, OH
Hey Timid,
First, congratulations on actually getting out there and selling!  Most carpet cleaners would rather sit by the phone and will it to ring!  And for those of you who have not yet downloaded the Special Report Timid refers to- here are the links:
Now on your quoting the job dilemma, as usual, I'll take the contrarian view. In my 20 years as a carpet cleaning business owner I quoted millions of square feet of offices, banks, medical complexes, restaurants, etc.
In a typical office, I don't believe I EVER deducted for the non-movable items like desks, chair mats, file cabinets, etc. Even more interesting, NO ONE ever questioned my figures.
Fascinating, huh? Sometimes we are much more concerned about things than our customers are. IF I had ever been questioned on this stand, I would have explained it is much harder to edge around/under a fixed object than to not have it there in the first place. (And we did give a "no furniture" discount off the total square footage price if the office was empty. So we did put our money where our mouth was!)
Now re: calculating your production rates you certainly could internally deduct for the furniture.  OR you could classify all offices basically alike and just go for the total square footage assuming that all office environments have the same basic layout.  (This is what I would do.)
NOTE:  It is essential to start keeping a "Production Diary" of exactly how long it takes you to complete each given job.  (I always survey each SFS class re: their "production rates" on different types of commercial work and it is shocking how many carpet cleaners don't really know what they can crank out per hour.)  You should note down for each job the square footage, the type of business, type of carpet, degree of soiling and any special factors.  Over time, an accurate portrait will emerge of just how many square feet you can confidently clean per hour.
My .18 to .22 per square foot!
Steve Toburen
Director of Training
Jon-Don's Strategies for Success
P.S. One hint to avoid "measurement quibbling", Timid, is to only write area square footage on the work order, not put down length and width measurements. Plus another idea is to draft your own job specs through the power of "suggestive reasoning". For example …
You REALLY don't want to move and clean under the chair mats. They often have file cabinets or desks placed on them plus what do you do with them while the carpet is drying? Leave the mats up and then they are an irritation when the workers come in. So when I would review the proposal with the manager I would say, "You'll note here, Fred, that we will 'edge' around or even a bit under if practical on all your non-movable items such as desks, file cabinets and chair mats. All open areas, which of course is where all the dirt is, will be cleaned and the finished appearance of the carpet will be beautiful." I would keep my tone very routine as I said this and be nodding my head slightly in a positive mode. (Think Obewan Kenobi here!) It works! After all, you supposedly are the expert!