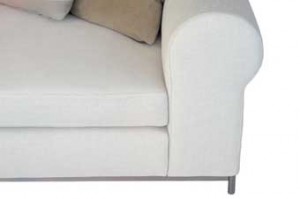 I receive several calls a week from technicians that have an upholstery fabric shrink or turn brown,  yellow or bleed. Normally I ask what the fiber test showed and the standard answer is "I didn't do one."  Fabric is so different from carpet because the majority is a blend or a natural fiber which requires special chemistry and caution. It is hard to trouble shoot a fabric issue over the phone with no information.
But then there are the situations where the technician does everything right and there is still a problem. This never occurs on a 399.00 Herculon sofa from Value City. In a  recent case I was involved in it was a 6000.00 sofa and the tech was a 30+ year veteran who performed all the proper pre-inspection procedures. This sofa was an organic cotton fabric that turned brown even though it was rinsed with an acid rinse and dryed quickly. The tech went through the usual procedures using browning formulas, Haitian Cotton formulas, and even 3% Hydrogen peroxide applications with the fabric in the sunlight.
The manufacturer, Lee Industries, was called and referred the cleaner to the retailer. As with most retailers they had no clue. So they went back to the manufacturer who refused to help anymore than referring back to the retailer. Lee Industries refers to themselves as the Earth Friendly Furniture manufacturer.  They have a whole list of their environmental issues. This includes soy based materials as well as recycled fibers.
Where it gets confusing is when they have an O code without any explanation. I sent an email to them and here is the response:
Cleaning Code O is Cleaning Recommendations for Organic Fabrics
For overall cleaning:  Wash in cold water, using a biodegradable detergent
or eco-friendly soap and air dry.  Organic dry cleaning is also
recommended.
For spot cleaning:  It is recommended that you test a small , inconspicuous
area with an eco-friendly cleaner.
Now that you have been thoroughly educated it should be easy to clean with your favorite eco-friendly cleaner.
My advice is to thoroughly study their website and be very careful with any of their fabrics.  Do not confuse Lee Industries with Lee's Carpet which is a division of Mohawk.