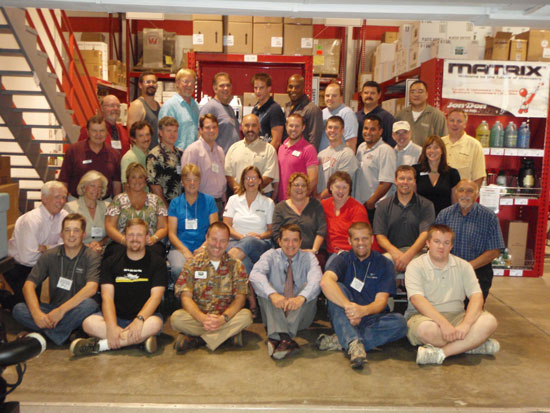 "Chuck Violand was exceptional. It was just the information and details we needed without overwhelming us. There is no support at this level to be found anywhere else. SFS has saved us thousands of man hours and years of work. We've found an ally in Jon-Don and we are grateful!"

Randy Bruce, Wipe Out Carpet and Upholstery Cleaners
Vashon, WA
"Chuck was entertaining, informative, detailed, patient, upbeat, positive, articulate and friendly plus he is a Buckeye!

Maggie Gardner, Miracle Clean Enterprises
Sandy, OR
Yes, Chuck deserves all the kudos he receives, Randy and Maggie. After all, he gets the unenviable task of 'warming up" an extremely varied group on their first day together PLUS doing it with a couple of very difficult subjects. (There is a reason I have "delegated" the financials to Chuck!)
"Bill Yeadon was excellent. There was good audience participation because he allowed time for questions yet brought the group back 'on focus' if they got off track."

Sonja Brown, Dual Clean Services
Port Angeles, WA
We're delighted to have "Big Billy" on our team, Sonja. I don't know of another person in the industry with Bill's track record and extensive knowledge yet is so humble and approachable. Be sure to benefit from his experience.
"I would strongly suggest SFS to any company at three times the price! SFS is a world class, A-plus seminar, the best I have ever attended! I will attend SFS again to refresh and update my knowledge.

Michele Ruttan, Superkleen Carpet and Upholstery
Chimacum, WA
It was a pleasure having you with us, Michele. Thank you for holding my feet to the fire every time I made another "promise". Based on your comments above evidently we fulfilled all the commitments we made!
"Strategies has breathed new life into my business. I'm excited and looking forward to the next few years. I now have new goals and systems to see me through my next phase of business. Thank you, Chuck, Bill and Steve!"

Shawn Abbey, Abbey Carpet Care
Salem, OR
No Shawn, it is we who must thank you. I'm grateful not only for Shawn's participation during the seminar (which was invaluable) but also for his posting of a very emotional "thank you" to Nick at www.icsmag.com. (Plus I need to apologize to Shawn for repeatedly calling him "Al" only because he is a carbon copy of our St. Louis branch manager who is named Al and is a really good looking guy!)
"This class was like manna from heaven. When I was handed the Operations Manual I almost wept. I realized I had just been saved years of work and been given millions of dollars in increased future revenue. Nick's vision sets a great example of how to help others achieve their dreams. Thank you from the bottom of my heart!

Jerry Baker, Dow Columbia
Portland, OR
Wow, folks, when someone with the business pedigree of Jerry Baker appreciates what you are doing it makes you feel pretty good. And I will second Jerry's praise of Nick Paolella. Without Nick's active support (and funding!) SFS as you encountered it last week would not be around today. And wasn't it great to have Jerry's "better half", Kayle Baker, with us too?
"This was the best class I have attended in my 34 years in the industry."

Ernie Goudreault, Ernie's Carpet Care
Woodinville, WA
We're glad you came, Ernie. It is never too late to learn! Plus I appreciated having you as one of my "front row boys" to play off of. Thank you for serving as one of my many targets!
"SFS was fun, enthusiastic, enlightening, informative, and encouraged us to go beyond what we thought possible."

Sonja Brown, Dual Clean Services
Port Angeles, WA
Thank you, Sonja. You and David added a touch of very well-dressed class to our little family!