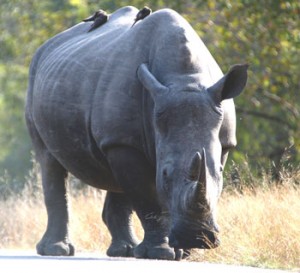 Everyone once in a while you hear a marketing idea that is so cool you wish you had thought of it. Well Mohawk Carpet has pulled off a doozie.  Dupont has created a new fiber called triexta or for you tech weanies polytrimethylene terepthalate. Mohawk has the exclusive rights to this fiber and has branded it SmartStrand with Dupont Sorona. This fiber has 37% biocomponent sourced from corn germ. I hope you are following this because there will be a test.
Now for the fun part. Mohawk has carpeted the living area of Ricko the Black Rhino in the Birmingham Alabama Zoo with SmartStrand carpet. Ricko will be living on this carpet for two weeks from August 14th-August 28th. If you thought those four cats caused some problems at the last house you cleaned just imagine what a 1-ton rhino can leave behind.
But you don't have to imagine because Mohawk has live webcams looking at Ricko all day long. You can check it out at http://smartstrandchallenge.com/
You can also follow Ricko on Facebook and Twitter and of course YouTube.
I would sure like to try out the new Matrix Miracle for this test.