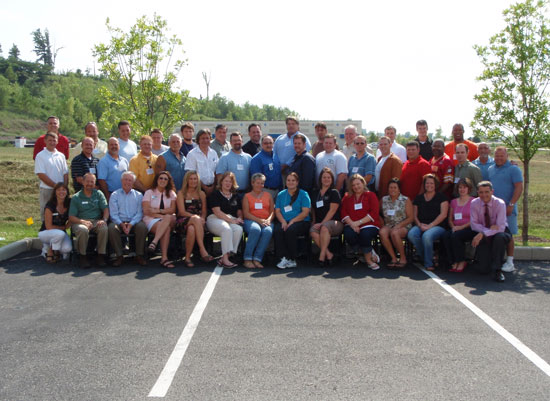 "On a scale of 1-10 Bill Yeadon was a 20! I have learned more in five days at SFS than I have in twenty years of schooling. I feel like SFS saved my life. I can't thank Nick and the Jon-Don team enough. Thank you, thank you, thank you!"

Brett Blakley, B & B Cleaning Service
Springfield, IL
Yes, Brett, Big Billy is awesome. How a man of his advanced age can maintain his level of enthusiasm (and with a killer travel schedule too!) is beyond me. Bill is one of many unsung heroes at Jon-Don!
"Nick was a very generous host and really showed his commitment to Value Added Service."

Mitch Reeves, Lamunyon Cleaning and Restoration
Hutchison, KS
Ah yes, Nick. What can I say? Nick truly is a legend in his own time. You are correct to be grateful to Nick, Mitch, since without his support and investment SFS would not have happened and certainly would not continue to happen. (We lose money on every SFS seminar we put on!) How to "thank" Nick? Just buy your stuff from him … 🙂
Speaking of being "grateful" I would like to thank Mitch's boss, Mike Lamunyon. Certainly based on company size Mike has sent more of his employees to SFS than any other member we have. And he has an incredible business. Coincidence? I doubt it. So for those of you who have managers and other key people you really need to send them to SFS if you truly want to grow. You can't do it alone …
"Chuck was great. I took the course in 2001 and was way overdue to return. If you have never been to SFS, 'you don't know what you don't know.' The second time around is a great refresher and motivator."

Christ Makos, Certified Chem-Dry
St. Louis, MO
I absolutely agree with both points. Chuck takes two difficult subjects (running your business by the numbers plus finding good employees) and makes them exciting. And yes, every single SFS member that returns tells me they learn (and implement) more the second and third and fourth time around!
"An outstanding class. I won't recommend it to anyone else because I don't want them to know what I know now!" 🙂

Chris Murray, Exceptional Upholstery, Rug and Carpet
Annondale, VA
I can't blame you, Chris, if you are talking about sending a close competitor to SFS. (Especially if you are locked in a "struggle to the death" with them for market dominance!) However, I would appreciate all of you being Cheerleaders for SFS with the industry in general and especially on the internet bulletin board community.
"Thanks for the practical ideas. I would tell others to take SFS much earlier in their career. Don't wait 13 years like I did! I'll probably take SFS again with my wife."

Cecil Sebring, Cecil's Carpet Cleaning
Altamount, IL
You are a smart man to see the need to bring the missus along with you to SFS, Cecil. I find SFS members that attend as a couple implement much more than when they come separately.

"SFS has been a great way to focus on how to move forward and help the business grow. It breaks the mentality that 'survival is enough'. I definitely recommend this class to others- it provides great motivation but also gives you the tools and knowledge to manage a growing business."

Andrea Birk, Courtesy Care
Bartlesville, OK
Thanks, Andrea. We really enjoyed having you and Jason with us last week. Your dad will regret ever sending you to SFS. After all, now he has created someone who will hold his feet to the fire!
"SFS is a 'must have' for every owner and your key employees. It was very informative and yet entertaining. Jon-Don makes you feel as if you are a part of their family and they will do anything to see you succeed. Great class!"

Richard and Cheryl Teer, Midwest Cleaning & Rest.
Park Hills, MO
Yep, you folks are right. Nick learned a long time ago that when his customer's are a success, they tend to "take Jon-Don along for the ride". Let us help you out there!
"SFS is the best class I've ever taken. My problem will be to take all the information in and apply it. I wish I would have taken this class years ago."

Marvin Menke, Marvin Menke of Jani-King
Belleville, IL
I agree, Marvin! (And not just about the value of SFS!) APPLYING and IMPLEMENTING this stuff is what will truly set you apart. Did I hear someone mention the words "Action Plan"? Get ready to have your feet held to the fire …