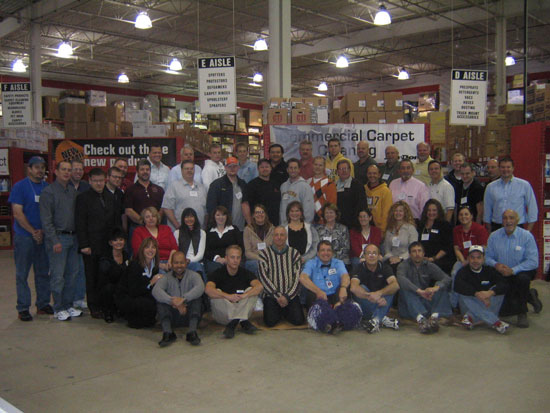 We had a very diverse group in this Roselle (Chicago) Strategies seminar. I was most impressed with how many employees attended from SFS member companies. Evidently our previous attendees need some reinforcement "down in the trenches"! Sending your key people (spouse, partner, managers) to SFS may be one of the best investments you will ever make! Steve
"Chuck is very good and knows his stuff. He is a good communicator. He keeps it interesting."

Eva Shroeder, Master's Cleaning
Elkhorn, WI
"Chuck was fantastic- he knows his stuff and presents it in an entertaining and educational way."

Tracy Goulet, Aladdin's Cleaning and Restoration
Lapeer, MI
Chuck always impresses me. He brings a diverse group of people together on Day One of SFS and "warms them up" with two very necessary (yet difficult) subjects. I appreciate and respect Chuck greatly. Are you signed up for his SFS only "Business Planning Seminar"?
"The best part of the marketing day was the ability to chat with Bill Yeadon and get to know him personally. Bill's presentation skills were excellent but he is a little bit shorter than I remembered!"

Greg Cole, Professional Carpet and Upholstery
Marietta, GA
Yes, Greg, Big Billy is a marketing genius packed into a very "compact package". We are fortunate to have Bill as part of our SFS team. And it is important to focus on the word "team" …
"You've made a Cheerleader out of me for SFS and Jon-Don! Thanks to all, especially Nick, Steve and Angela."

Matt Meekhof, 1-800-Water Damage
Ferrysburg, MI
I couldn't agree more about the quality of people Jon-Don attracts, Matt! And the reason is Nick! And I'm not the only one to feel that way …
"The single best moments of my time at SFS were Nick's jokes. Nick is the best!"

Duane Crum, Modernistic
Plainwell, MI
Thank you, Duane. You weren't the only one that was impressed with Jon-Don's people and especially with Poppa Nick. Nick is one of a kind and a legend in his own time! I believe we all share your opinion about Nick, Duane. He is the one that sets our entire Value Added Service culture here at Jon-Don. (He just didn't know what to call it till I came along!)
"Steve Toburen's expertise on is subject matter is mind blowing. The food and accommodations are unbelievable. Jon-Don treated us like kings and queens. SFS is a must for any company that wants to be successful."

Jen Burton, Skyline Restoration
Oak Lawn, IL
Thank you, Jen! We appreciated your attention and look forward to having your husband attend in January at our Tampa class. My guess is the two of you together will be a force to be reckoned with! You know, Jen, too many seminars just try to extort more money from a captive audience! At SFS we are trying to break this vicious mold. One thing that keeps us topical and current with your needs is to have input from you.
"The class was excellent! I really didn't know what to expect but I now realize it was a week I could not imagine missing!" THANK YOU ALL!!!!"

Tim Conn, Anago of Chicago
Woodale, IL
You know, Tim, I always say that one of the best things about SFS is that we "validate" many of the things that you are already doing but didn't know WHY! OR we remind you of things that you at one time did but have now slacked off on. We don't pretend that ALL of our material is original. We do guarantee that it is topical and relevant to your business. See my comment above to Jen on how you can help us achieve this goal.