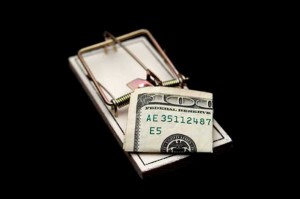 Question: How can I make more money on my residential carpet cleaning jobs?
Steve's solution: Start with a high-profit service/product that is easy to sell AND apply!
Dear Steve,
I am looking for additional money making products to sell while on residential jobs. I advertise three packages to choose from, however I have found that pet urine spot treatment is a real money maker. What about stretching, dyeing, or selling carpet, Steve? I am looking to expand my revenue opportunities. What was the real money maker for you?
Aspiring in Australia
Where do I start, Aspiring?  This industry lets each of us choose our own "level of success" which is great! But of course (as I tell every SFS seminar) "More money is better than NO money!" 🙂 So let's look at "extra revenue opportunities" which I call offering Additional Service Options!
NOTE: I banned forever the word "up-selling" in my company and HERE is why!
There are little specialized things like upholstery cleaning, ceiling, window and wall cleaning or carpet tinting along with dyeing and "color repair". (And of course tile and grout cleaning has gotten really big in recent years.)  You also have proponents of marble and fine stone polishing as well as in-plant loose rug cleaning.  Then you got your totally different mind-set businesses like fire or water damage restoration.  (Different ball games all the way)
The big question Aspiring, as you point out is, what will bring in the cash?  🙂 My favorite and what worked for me is much simpler.  In a word: The Additional Service Option of "re-applying" Scotchgard finish. (By the way, HERE is my single best way to DRAMATICALLY increase your protector sales!)
Problems with some of the other "upsell" ideas:
Many require a high level of skill the average tech doesn't have.
Many may require another appointment to come back.
Both customers and technicians get "confused" if they have too many choices/options on upsells.
Require a high level of investment in equipment or organization.
Go where the easy money is to start out. Just ask the homeowner, "Would you like me to 're-apply' your carpet protection today?" One sentence. A huge money maker for both you and your employee. And your customer will be happy.  Worked for me! (Remember, never "high pressure" your client. Instead, just "fade away" on ASO's till later in the job…)
Steve
P.S.  Download my free Special Report  on Additional Service Options HERE to learn how to best offer Scotchgard (or any other carpet protector) and make more money from your existing customers.