We've been clicking off my "TOP TEN Ways to Make More Money (MMM) From Each Job":
TOP TEN MMM Idea #10: Charge more.
TOP TEN MMM Idea #9: Travel smarter
TOP TEN MMM Idea #8: Get more efficient
TOP TEN MMM Idea #7: Pre-orient your clients on how they can buy more
TOP TEN MMM Idea #6: Offer "add-on services" that are "special niches"
Now for my "TOP TEN Smart Ways to MMM From Each Job" Idea #5: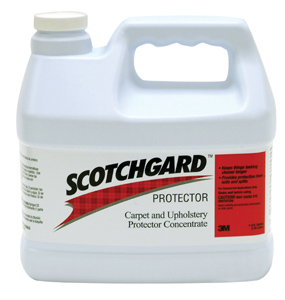 Sell Protector (Duh!)
NEWS FLASH! "Re-applying" carpet protector is absolutely the fastest, easiest and best way to Make More Money from each home you clean. Check out our SFS tips below on HOW to sell more protector. But first a gift for our readers who primarily offer restoration services. (I've been neglecting you lately!)
A bonus "Restoration QuickTIP": Always "re-apply" (and charge for) protector with the final carpet cleaning after a fire or water loss.
NOTE for restoration contractors: Did you know there is an Xactimate line item for protector application? Write it down! CLN-FCCPC (Depending on your location Xactimate currently allows $0.16- $0.20 per foot for protector application!) So how much money have you LOST by not automatically reapplying Scotchgard?
The easiest way to sell more Scotchgard at each residential job? JUST ASK as in, "Would you like me tore-apply the Scotchgard finish today?" Be honest now: How often do you kick yourself as you drive away? "Oh no, I forgot to ask her about Scotchgard!"
Here's a few more sell more Scotchgard ideas:
1. Quote just one price INCLUDING the protector in your pre-inspection. Just calmly state: "The total price to clean and reapply protector will be …" See what happens! Remember it is easier to come down than painfully "sell up"! (Why not give this idea a sincere try? The key is to do a great relationship building pre-inspection before you pop the question"!)
2. When the home owner shows you a spot simply ask: "Do you remember if the last time you cleaned the carpets the Scotchgard was reapplied?" BINGO! (Now your "Scotchgard Question" will be percolating away in her mind!)
3. Include a FREE 12 Month "Spot and Spill" Warranty on every protector application. (Your protector sales will double but less than 1% of home owners will ever use the service!) Even better, offer your 12 Month "Spot and Spill Warranty" to retail carpet stores.
Steve Toburen
PS So what are your "protector selling" TIPS?
Every week we share a timely, practical tip like the above. So if you're not already signed up for these FREE weekly QuickTIPS, do so now.