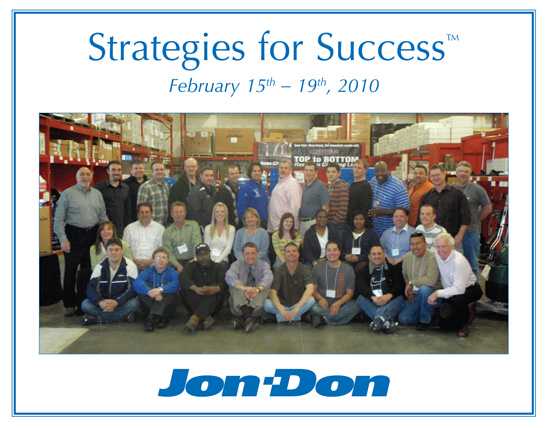 SFS is invaluable. I highly recommend it for anyone no matter how long they have been in business. Don't be so proud as a business owner and think you know everything. You don't! You can not put a price on Strategies for Success. SFS has been one of the best experiences I've ever had in this industry and I've been at it for fifteen years.

Mark Helmich, Ultrasteam
Durango, CO
Thank you, Mark. We all appreciated your enthusiasm during class. Your boss is fortunate to have you backing him up. It was a smart move on Richard's part to bring you with him. Now he'll have someone else to share his enthusiasm with …
I would absolutely recommend SFS to any cleaning and restoration company- no matter how experienced you think you might be. Chuck Violand will illuminate the secrets of "your numbers", Bill Yeadon will help you understand the complex minds of your potential customers and Steve Toburen will then explain how to transform a prospect from a voice on the phone to an enthusiastic Cheerleader! Even better, Steve gives this to you in easy steps that will lead to happier employees and greater profits! Strategies is an excellent mix of 'hard' and 'soft' skills and also includes the best systems manual I have ever seen!

Richard Carpenter, Ultrasteam
Durango, CO
Your point is well taken, Richard, on the value of our SFS team approach to business. No one can do everything which is why I was so happy you brought Mark with you. (And all of you could take a page from Mike LaMunyon with LaMunyon Restoration in Hutchison, Kansas who has now sent 14 of his employees to SFS plus sponsors a regular on-site VAST class at his shop for all of his people.) Of course, our SFS team includes more than the Three Musketeers of Chuck Violand, Bill Yeadon and Steve Toburen …
To everyone at Jon-Don and all the people that have made SFS I just want to say thank you, thank you, thank you! If I can achieve half of what you have given me the sky will have no limits! I can only go up from here. Chuck, Bill and Steve- you will always be heroes to me. P.S. Nick and Angela- you are great people! Thank you!

Richard Huebner, Commercial Carpet Cleaning
Tucson, AZ
Yup, you are right, Richard. Nick and Angela are good people! (And of course Jon-Don is just a reflection of Nick's values which is probably why I have stuck around for going on fourteen years!) I loved Richard's comment in his note to me: "This was my second time at SFS and I have learned just as much this time. Just hit me over the head with a 2 X 4!" Richard, I am sure you will "achieve" much more than half of what we've given you because your extremely capable Margret came with you to this SFS and she will hold your feet to the fire! And Richard, you weren't the only one impressed with Nick …
I think Jon-Don put on a first rate seminar. I am so very glad I attended SFS. Nick and all the speakers were great to the attendees. The night out to Dave and Buster's was a nice gesture by Jon-Don. It was great to relax and talk with everyone. And the information shared at Strategies will be great if I implement it in my business.

Andy Taylor, Associated Restoration
Fort Worth, TX
I couldn't agree more, Andy, on the need to "implement". Unless you get down in the trenches and get to work on your Action Plan you will have just enjoyed a nice week away from the grand and nothing more while you attended SFS. Remember what I kept telling you? We want SFS to be a "transformational experience" in both your business AND your life!
I think Strategies for Success has been the most rewarding class I have ever taken. It is a college level course. I learned more about business during this SFS seminar than I have my entire life. Jon-Don has created a win-win situation out of this class. I would recommend Strategies for Success to anyone in this business. I can't thank all of you enough!

Allen Norman, Spring Cleaning Services
Weatherford, TX
Don't feel like the Lone Ranger, Allen. This "I learned more than I ever have" statement is a reaction we get quite often. The cleaning industry is full of dedicated, hard working people just like you BUT they just don't have a business background. Now, thanks to Poppa Nick's vision, you really can have it all!
SFS has been a wonderful class. The food was great and the staff was priceless. I have attended many different seminars and SFS has been one of the best. I received valuable information and will be a Cheerleader! The cost/value ration has just been over the roof. For the materials and information I received I can easily see paying $2,000.00 to $2,500.00! Thank you so much for allowing my janitorial company to become part of your pre-dominantly carpet cleaning family.

Clara Knox, QCS Unlimited
Fort Worth, TX
I'd say Clara has nailed it when she talked about everyone in SFS being part of a "family". It's obvious that we share something very special. That's right. Now we are a "family", brought together by our hunger and thirst for more knowledge and a shared dissatisfaction with "business as normal." My thanks to all of you!
Sincerely submitted,
Steve Toburen