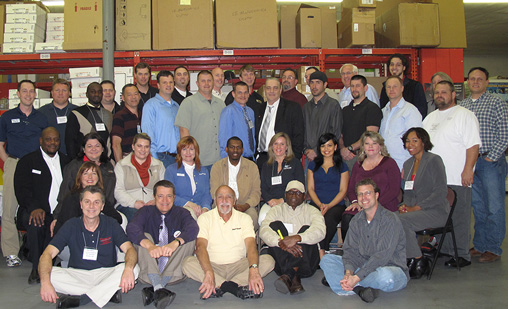 Check out these photos and comments from this recent Strategies for Success class held at Jon-Don's Atlanta facility. Chuck, Bill and Steve shared surefire techniques to improve any cleaner's marketing, financial and management skills. (And there was some great networking going in to!)  A wise investment AND a lot of fun with Papa Nick Paolella!
[slickr-flickr tag="sfsatlantafebruary2011″]
Click here for all the February SFS class photos in Tampa Bay.
This seminar gives you the infrastructure needed to track my financial information from the start. It provides a solid foundation for tracking the "not so fun" side of business, allowing you to focus on what you really enjoy.

I would tell others that they are foolish not to attend. I am very fortunate to have stumbled across this course as I begin to build my company. I have vast experience in business and military operations and this is absolutely the most well organized and user friendly training that provides practical, ready to use information I have ever attended. The SFS team practices what they preach … as is evident by how smooth the week went by!

John Roe, BDR Carpet Cleaning
Honea Path, SC
Industry specific content can only be effectively delivered by coaches with a firm grasp on the Industry. Chuck exudes confidence that he knows the Industry.

Bill had great commonality with the class. He responded well to a high level of questions and found ways to get us focused.

Paul Romanick, Citrus Solution, Inc.
Cumming, GA
Chuck's info on understanding Financial/Profit potential was extremely valuable. It's very hard to place an actual value on the information provided today. That makes it invaluable!

We already have a great amount of systems in place, but we need to strengthen them even further. I feel like I have received so much candid, applicable information. We will be sending our management staff through the course as they are hired. We recommend Jon-Don as a whole to anyone/everyone we have the opportunity to!

Crystal Butler, Remco Solutions
Holly Springs, GA
Chuck's command of the financial end of the business is unsurpassed!

Joe Pierron, Right Way Restoration
Canton, GA
Chuck's presentation skills were somewhere between awesome and excellent! I enjoyed the information and hope I can make it a daily operating formula for my own company.

Kevin Cleek, Absolute Best Cleaning & Restoration
Cohutta, GA
It was great to have a 1-on-1 time with the Instructors. I also enjoyed brainstorming sessions where we can talk to the group about a issue we have in our individual business.

Matt Moree, AMS Cleaning Solutions
Lilburn, GA
We were blown away with the material you gave us! The Operations Manual is the best resource we could have ever received. Everyone at Jon-Don is amazing and the skills learned are life changing.

Chad and Scott Rodgers, (Partnership just starting out!)
I would recommend this course because you give all the tools, from beginning to end, to have a successful business and working family environment.

Sharlene Knight, FW Services Co.
Doraville, GA