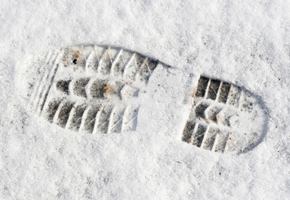 Many of you have already endured an early "winter surprise".  And mud/snow and just general "yuck" come along with your beautiful Winter Wonderland!  (This Yuck Factor is the big reason your residential calls drop off dramatically in the winter!)
Silently reassure the home owner that you aren't going to bring Mr. Winter inside with you and you'll have a great Moment of Truth that in turn will create Cheerleaders.  For example …
Always separate your vacuum and solution lines into two categories- "inside" and "outside".  Keep two 50' lengths of  "inside" hoses shock-corded and hung on the wall of your van.  These "pristine hoses" should NEVER be dragged or even laid down outside.  Hand carry these inside hoses to the front door and then clip them in to your outside hoses.
At SFS you learn to put on "your Customer's Eyeglasses"- to look at the job and your actions through the eyes of the home owner.  Trust me- with the typical sloppy winter weather conditions out there your client WILL be worried about you tracking in.
So refocus on putting down a front door mat, wearing shoe covers, putting up a door guard and just generally being obsessive-compulsive on caring for your customer's home.
Impress the home owner enough and just maybe she'll call all her friends and marvel about what a considerate company you are!  Or even better she will become a "Cheerleader on Steroids" and post a glowing online review!  (And of course the ultimate is when a delighted Cheerleader volunteers to film a short video review of your work which you can then post on your web site.)
Steve Toburen
PS  So what tricks have you learned to cope with Old Man Winter?  Share them below in the comments section.
Every week we share a timely, practical tip like the above. So if you're not already signed up for these FREE weekly QuickTIPS, do so now.
This week's FOCUS: Employee management Do's and Dont's

Help honest cleaners stay honest with "Employee Accountability"

Did you know your carpet cleaning technicians are "addicts"?

The best (and cheapest) employee motivation? Recognition!

The two BIG responsibilities of a good leader …

Avoiding the "Chief Problem Solver" trap

"The surprising truth about what motivates us"

How NOT to hire carpet cleaning techs!

How should we pay our first cleaning tech?

Download: Adding "Employee Accountability" To Your Company

Download: The Customer Comes Second
Also new this week: