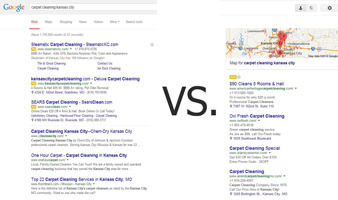 Many clients I speak with are puzzled between ranking on Google Organically and ranking in Google Places. Let's begin with defining each term. Then let's dive into the profitable world of how to rank high on Google!
Google Places can be identified as a search result that has a letter next to each listing and it will appear on the map section in the upper right corner of the page. Google Places has had a lot of renaming and it continues to change.
And yes, in my opinion, the whole name confusion issue depicts how unpredictable and unreliable this idea is. Some call it Google Maps Business Listings, some call it Google Plus, but the majority of us call it Google Places so this is what we will refer to it as in this article.
So how can you rank in Google Places? First, you must have a physical address located near the center of the city you want to rank in. Then you need to have your business name, phone number and address consistent across all sites and directories on the Internet. Also, be aware that you will probably have difficulties changing phone numbers and addresses with Google. (And let's face it Google's help desk just isn't helpful and/or reliable.)
Another issue with Google Places is that you can only rank for a single service in that city. (Unless you are in a very small town.) So, forget about ranking for Carpet Cleaning, Tile & Grout Cleaning and Water Damage with your Google Places listing. Not going to happen!
Let's say you have done everything correctly. Wonderful! You will now be entered into the Google Places lottery. Let's define that term "lottery": Any happening or process that is or appears to be determined by chance. That's right, seven lucky winners will get randomly chosen in each city to appear in the Google Places results section.
And if you are one of the "chosen few" in the Google lottery congratulations are in order! I'm happy for you! But if you are not chosen there is no way of discovering out why you weren't selected. And even if you did get chosen this time there may be a new hot lucky lottery winner next month that takes your slot and you get left out in the cold! As you can tell I'm not a big fan of Google Places!
Now when you rank Organically in Google you appear after the shaded paid advertising boxes and above the Google Places section. Ranking organically is more predictable if you apply the right optimizing techniques. Plus you don't have to worry about those darn street addresses. And if you set things up right you can rank one website for lots of different services in multiple cities which potentially can be huge!
My suggestion to everyone is not to rely completely on Google Places! Sure, go ahead and setup your page and register for web directories. But focus most of your money, time, and attention on ranking organically. You can potentially be the first business on the page one and get your Yelp ranked, your Facebook ranked and more! If you do it right or (cough, cough) have an innovative SEO professional doing your optimizing your phones are going to ring!
Joe
Joe Burnich operates a carpet cleaning marketing and web design business. Experience with his own carpet cleaning business makes him uniquely qualified as he incorporates the "practice what you preach" philosophy to help fellow carpet cleaners. Contact Burnich at (406) 214-6504.