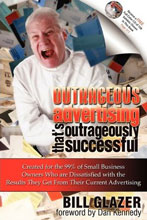 SFS 2-time (soon to be 3-time alumni at our upcoming SFS seminar in Tampa Bay January 18-22) Rob Lyon turned me on to a great marketing book. Outrageous Advertising That's Outrageously Successful by Bill Glazer.
While giving a course at the Jon-Don store in Langhorne, PA I had dinner with Rob, Meg and John Burdick. Of course the conversation quickly turned to marketing, my favorite subject. Rob had joined Bill Glazer's mastermind group and was already trying out a sequential letter campaign as well as other great tips from the book.
In the next SFS newsletter I review the book but being a print publication we know that may be a little ways off. My purpose is to encourage you to pick it up at Borders, B&N or Amazon. With 26 reviews 23 are 5 star on Amazon.
Start 2010 with a great book that will help you kick start your marketing plan. If you have a suggestion on a book, just reply below to this post and let hundreds of other SFS alumni know.
Let's go 2010.