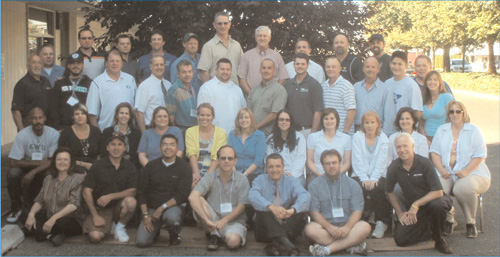 Jon-Don Seattle hosted the latest Strategies for Success seminar on August 16 – 20, 2010.
[slickr-flickr tag="sfs seattle august-2010″]
With a focus on carpet cleaning and restoration businesses, the attendees spent five days diving into the basics of finances, marketing, infrastructure and Value Added Service.  The experience elicited the following comments from the 35 cleaning industry professionals in attendance.
Chuck was very helpful and courteous. The financial awareness and networking was awesome!
SFS exceeded all of my expectations. I would highly recommend this course to any and all companies who want to improve their business and take it to a higher level. On a more personal note, I was a little nervous about being in a room full of my competition and hesitant at first to share my successful ideas. But after day one was over, I found myself in a room full of "allies" and friends who shared a common goal to strive for excellence. If we all continue to improve our industry with consistency, positive moments of truth and value added service, we can make a huge difference in the customer's perceptions of us all.

Mary Jarman
Excel Carpet Cleaning
Get a true grasp on the Financials and where your money is going.
Funny, informative and very helpful!
This class is a threat to me, it helps my competition. LOL! Seriously, this class rocks and I am so glad that I attended it. I am thirsty for more!

Ken Maxfield
Slipsafe Northwest
It will change your thought process and get you out of your comfort zone. Make you go for your full potential.
I would recommend the class because it really shows you how "you're not doing things right" but gives you the skills and tools to do things the right way. Also how to motivate your employees to become cheerleaders as well as your clients.

Caleb Cate
A Clean Carpet Company
Chuck is one of the most professional speakers I've had the pleasure of listening to.  I like how he stays focues & in track with the material. Great class, wish I took this 10 years ago. I would definitely NOT recommend this to my closest competitor but others should attend so they can become more profitable.
What I've learned will help me to improve my business. I can immediately implement a lot of simple things & improve my customer's experience.
Bill is a great speaker. He's interested in the students and interacts well with them.

Sonny Winters
CFM Carpet & Upholstery
I feel like a 1st grade student even though I've been cleaning for 25 years. I would recommend this class to everyone, even other types of businesses.

Scott Woods
Super Sonic Steam Cleaning
Everything was superb!  The cost of the class is very small compared to what you receive.
You could tell Steve's been doing this for a while and his heart's really into it.

Nate Whittington
Whitco & Meiso
Strategies is for business owners who are serious about success. Even those we would consider successful already in life will say that lifetime learning is the secret to success. There is ALWAYS more information out there more things to learn when we stop learning we stop progressing. Strategies is a key part of that "lifetime learning" for me.

Laurel Winkel
Winkel Carpet Cleaning
Start a Business. Not a Job.

Anonymous