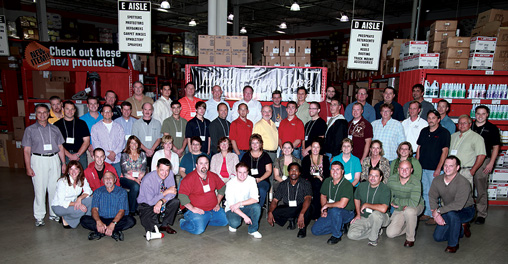 Jon-Don Chicago hosted the latest Strategies for Success seminar on September 20 – 24, 2010.
Many of the carpet cleaning companies in attendance were looking for ways to stay busy all year long. Others wanted new marketing and customer retention ideas. For a select few this was their first step in starting their own carpet cleaning business.
Some of the companies present had lots of employees while others were owner-operators. However all the attendees had high expectations. Would Jon-Don's Strategies for Success Seminar live up to those expectations? The following class comments speak for themselves.
Steve was extremely informative without boring everyone. I would absolutely recommend this class to anyone working in other industries. I know this is by far the best continuing ed or seminar I've ever been to. I learned valuable information that applies to ANY business owner or manager. I couldn't say nicer things about this program! Thank you so much to Jon-Don, Angela, Nick, John and all the speakers. It was a wonderful experience.

Maribeth Ruusma
Carsons Cleaning & Restoration
It's very important to drop the fear of looking at a business through the lens of the financials.

Michael Courtin
Phoenix Restoration
It was very helpful. I thought there was a lot of helpful ideas on how to save money, track money, organize paperwork, find your percentage on what you need to cut/increase.

Money management/time management, learn how to tweak little things to make your profit increase.

Jeremy Brown
Dabco Facility Maintenance
I have not started my business yet but the information you have supplied us with is absolutely fantastic. Steve was exceptional, one of the very best. This course is really good at covering the detail nitty gritty of the carpet cleaning business. Many other programs overcharge and give you way too much fluff. In this program the real money is in the details of the Operations Manual. I'm so glad you covered the commercial (encap) business and how to properly sell contracts. My market is New York City being 15min to Manhattan. If I follow the advice I have received I know that with a strong sales effort it could make me rich.

Brian Conboy
Premium Home Carpet & Rug
As of day 1. It will make you understand why numbers are important, maybe more important than cleaning ability.

Mario DiGiovanni
Premier Cleaning Solutions
Helps the old in our industry go back to basics. If new, I think you must attend class.

I took my first IICRC class at the age of 12. I learned things from Chuck in class that NO one had ever went over in my 12 years being in the industry!

Dustin Smith
Protechs Inc.
100% satisfaction. Will recommend this class to others. Amazing blueprint for success. Total accountability on us to do what we learned. No excuses. If we don't improve our business it's because we didn't follow this material. That won't happen. Thank you very much.

Rich Crim
Chem Dry
Whether they feel their company is good enough or not, they will learn how to improve.

Dean Cardiff
Accent Service Inc.
Knowledge is power. I absorbed much information today. It was not a moment. It was a full day of useful moments.

Chuck Ruberstell
J&M Reliable
I would rate Steve outstanding! SFS is a major investment and I approached the seminar in that light. It STILL vastly exceeded my expectations. I've expressed to Nick my thanks for his building such a powerful organization!

John Broome
Advanced Construction & Restoration Services
Steve brings world-class expertise to the table. I came to this class almost 10 years ago and although the company I worked for had different philosophies, I used these principles to build my own book of business which eventually gave me the opportunity to start my own business. I have been using them for the last two years of sending techs to Vast. But attending this seminar a 2nd time was critical to our future growth. Thank You!

Thomas Baran
Platinum Restoration
Steve's presentation has been perfected; without a doubt top notch. This program is the most valuable "tool" in my toolbox. I have no doubt that my business will grow tenfold if I implement half of what I learned. Thanks to Steve and the rest of the Jon-Don staff!

Dana Jennings
Rainbow International
Steve was A+! Everything was awesome! I believe the tools given will help us make huge positive strides in our business growth and customer service. Thanks from our heart!

Kari Jennings
Rainbow International
Steve is top notch. Has a kind heart and very well spoken. Steve is one person who I believe will do what he says. I am just 6 months into the business. What a great time to implement many of these things quickly.

Tim Koch
Rainbow International of Linn
I felt Steve has a very effective way of getting his point across. He covered and gave more than I ever expected. I got more out of this class than any other I have attended! I feel we received so much because Steve is one of us and because all of the instructors have been where we are and have made the same mistakes as us. Made them that much more credible. Thank you so much!

Sara Koch
Rainbow International of Linn
Steve's great – I love him (non-romantically of course!). I'm enormously grateful. I will most definitely be a returning member!

Bill Boyd
Protector Flood Restoration
Best info I've seen in hiring/interviewing. Sense of community always present.

Steve was excellent. The last two SFS classes had a huge impact and I'm sure this one will as well. The class room environment is the best I've seen in 25 years in industry. I prefer to train here. I have spent thousands of dollars and traveled thousands of miles for seminars. SFS has been the best investment of my time improving myself to ensure a profitable company. The sense of community created by all the people that put SFS on is very powerful.

Al Gozzola
Assured Services Inc.
I'd highly recommend SFS! The information provided this week is "priceless"! I'm excited about implementing several strategies immediately. Thank you for sharing your knowledge. Jon-Don is "exceptional"!

Kathy Bouras
First Class Carpet Cleaning