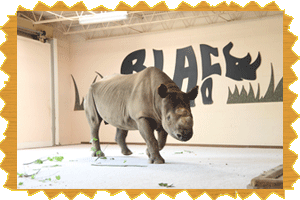 Last year Mohawk Carpet pulled off a successful marketing campaign for their new SmartStrand carpet by carpeting the cage of a black rhino in the Birmingham Alabama Zoo. (We blogged about it.) Ricko the Rhino had his own Facebook page as well as his own Twitter account. This was in addition to live cameras focused in on his activities on the carpet, including  some that weren't too savory.
So how does Mohawk top this stunt? Bring in the elephants. Last year the focus was the stain resistance of this new fiber from Dupont named Sorona. As cleaners with even longer memories than elephants we knew this was a polyester derivative. The stain resistance was a gimme but anyone who has cleaned polyester knows it crushes faster than apartment pad.
By bringing in a herd of elephants and allowing them two weeks to crush this new carpet Mohawk is attempting to answer the crushing question.
This is a great marketing example. When consumers have a perception you have to hit it head on. In our industry many consumers believe that if they have their carpet cleaned with hot-water-extraction, the carpet will be left overly wet. By using a killer guarantee stating the carpet will be dry in 3 hours or the job is free; you can overcome this perception.
This marketing campaign starts October 7th and goes for 2 weeks.
This is a great conversation starter with your customers.
Check out the live cameras at The SmartStrand Challenge. The following is a press release introducing the challenge.
MOHAWK'S SMARTSTRAND ZOO CHALLENGE GETS EVEN WILDER!

Testing Carpet Durability and Resiliency with African Elephants and A Black Rhino

Dalton, Ga. – Mohawk Flooring is teaming up with the Dallas Zoo to put its SmartStrand(R) with DuPont(TM) Sorona(R) (SmartStrand) carpet to the mightiest of durability and resiliency tests.

Last year, Mohawk partnered with The Birmingham Zoo to carpet Ricko the Rhino's enclosure with SmartStrand carpet. Ricko lived on it for two weeks eating, sleeping, rolling his 50-pound ball around and doing things that just come naturally to a 2,800-pound rhinoceros. All on Mohawk's SmartStrand carpet! At the end of the test, the carpet came perfectly clean, proving SmartStrand's unsurpassed stain protection. This year we asked, "What's bigger than a rhino?"

How about six African elephants and a black rhino? On October 7, Mohawk will install SmartStrand triexta carpet in the indoor enclosure of The Dallas Zoo's African elephant exhibit to test its ability to withstand the animal's mess, size and weight for a two-week period. A party of six African elephants will be monitored as they go to and from their living quarters several times a day, walking across the SmartStrand carpet. The Zoo's black rhino will also be living on SmartStrand during that same time period.

Six day- and night-vision webcams will be strategically placed throughout the enclosures to capture the animals' life on the carpet. The public is invited to check in on the animals throughout the SmartStrand Zoo Challenge via its website: www.smartstrandchallenge.com. Watch as they romp and tromp, giving SmartStrand carpet a run for its money.

"The Zoo's six elephants are going to march 45,000 pounds across our SmartStrand carpet. Twice a day, every day for two weeks. That is a bit more than the average house will ask of their carpet!" said David Duncan, Mohawk's Vice President of Marketing. "SmartStrand is an extraordinary product and we're challenging its durability in an extraordinary way. We are confident that not only will our carpet come clean at the end of this challenge, but it will not be crushed by the weight of the elephants. If SmartStrand can stand up to this wildlife, it can certainly stand up to your wildlife."

SmartStrand triexta carpet made with DuPont Sorona is a sustainable flooring option that is also luxuriously soft. Bio-PDO(R), which is made from corn sugar and is a renewable resource, makes up 37 percent of DuPont Sorona. Additionally, SmartStrand with DuPont Sorona provides superior stain resistance due to the way it's engineered. Stain protectors are built in the carpet fiber and will never wear or wash off. It will even resist discoloration from bleach.

To go along with the new carpet, Mohawk brought in Chip Wade, designer, expert craftsman and carpenter and cast member of Home & Garden Television's (HGTV) TV shows "Curb Appeal" and "Designed to Sell." As the Mohawk SmartStrand celebrity spokesman, he wanted to be part of the Challenge, involved every step of the way.

This year, Mohawk is also introducing a new Human Habitat exhibit to the challenge, where zoo guests can visit four different household situations…a living room, kitchen, bedroom and foyer. Housed in the reptile quarters of the zoo, each living situation will incorporate Mohawk flooring products–carpet, wood, laminate and ceramic–allowing visitors to interact with the exhibits and see for themselves how the flooring is tough enough to stand up to their wild life.

A unique t-shirt design incorporating this year's animals will be available for purchase. All proceeds will benefit the Dallas Zoo's "Zoo2Wild" Conservation fund, supporting field conservation partnership programs such as Charles Foley's Tarangire elephant project and the International Rhino Fund.