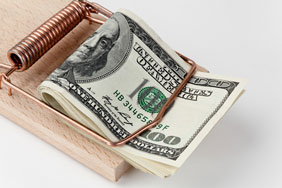 What is your guarantee? If you tell me "we guarantee our work" a trap door will open below you and you will be eaten by sharks!  Alright so that may be a little harsh but the "piranha idea" has already been taken!
Seriously, what do you do to take care of an unhappy cleaning customer and how far will you go? My compadre, Steve Toburen, details his complete Customer Service Recovery System in our SFS seminar which will help you out. All your upfront customer service will be destroyed if you don't handle the complaint properly. Remember that in your customer's "universe" 12 positive "moments of truth" are needed to recover from one negative experience.
Groupon is trying to model itself after another online juggernaut- Zappos.  If you are not familiar with Groupon they are the leading company for online discount coupons. These can be for any type of service from carpet cleaning to trips to the amusement park. The coupons are only available for the day they are posted which creates a type of feeding frenzy. (You know- like those previously mentioned fish!)
Let me know what you take out of the following post from the Church of the Customer Blog

9 ways Groupon leads the online coupon industry

By Jackie Huba

In the discount world, lowest price is king.

In the online discount coupon world, Groupon hopes to be king via customer service.

Since launching in November 2008, the Chicago-based deal-a-day website has sold over 7 million online coupons in 70 cities. Its success has spawned competitor sites such as LivingSocial, Townhog, and Homerun, and it's betting that fanatical customer service will keep them leading the pack.

During a recent trip to Chicago, I spent some time at Groupon's headquarters hoping to understand what makes this fast-growing company tick. What I found were nine ways Groupon focuses on customer service in a price-competitive market:

Promote the fine print. Groupon features terms and conditions in large type in a clearly labeled section right beside the deal highlights. You can't miss it.
Put a phone number on every coupon. If you are at the location of the merchant and have any issues, you can call Groupon HQ to resolve them. Try to find the Amazon.com customer service number. I dare you.
Anticipate and diffuse frustration. If you click to unsubscribe from Groupon's email alerts, you are taken to a web page with what looks like a live video feed of Derrick, the Groupon Guy. A button says "PUNISH DERRICK." Once clicked, a guy walks by and throws a drink in Derrick's face. A message appears saying "That was pretty mean. I hope you are happy. Want to make it up to Derrick?" Another button says "RESUBSCRIBE." Fun fact: "Derrick" is actually Groupon CEO Andrew Mason.
Apologize. Groupon is fanatical about vetting good merchants, so when a merchant went out of business after hundreds of coupons had been sold for it, Groupon gathered the entire team together holding a sign that said "We're sorry." They sent the picture, along with a refund, to all of the customers who had purchased a coupon.
Have an iron-clad guarantee. If you are not happy with the Groupon experience, the company will refund your money, even if you have used the coupon. They call it "The Groupon Promise" and the company told me a very small percentage of customers ask for refunds.
Let customers discuss your products on your property. Every Groupon deal has its own discussion thread in an online forum. Prospective customers can ask questions about the deal before they buy. The thread stays active forever so customers will often go back and add feedback about their experience with the merchant. No other competitor has this.
Use two-way ratings. Groupon's success is predicated on happy customers and happy merchants. Customers can give awards to merchants that they like or flag a merchant for a poor experience. Merchants can also rate loyal customers or good tippers, and can flag unfriendly customers.
Treat the call center as a customer loyalty touchpoint. Groupon customer service reps don't have scripts. There are no pre-set time limits on calls. Reps are trusted to solve a customer's issue on the first call.
Hire for outside-the-box skills. About 70% of Groupon's customer service reps are connected to the local theater scene. Joe Harrow, Groupon's head of customer service says theater folks are a great fit. They are high energy, friendly, outgoing, quick on their toes and fun people. Plus, they need day jobs. On my recent visit to Groupon HQ, Joe showed me a wall in the customer service area decorated with pictures of team members. He mentioned that you can tell who the theater folks are by their professional head shots.