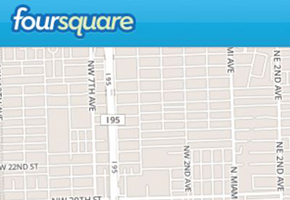 So just what is "Foursquare"? According to the About Foursquare page, "Foursquare is a free app that helps you and your friends make the most of where you are. When you're out and about, use Foursquare to share and save the places you visit. And, when you're looking for inspiration for what to do next, we'll give you personalized recommendations and deals based on where you, your friends, and people with your tastes have been."
Basically, Foursquare is a website where users can "check-in" using GPS when they are at certain locations, post reviews of the location, and then start conversations with other users about the location where they are posting.
Foursquare has over 30 million users worldwide, over 3 billion check-ins and millions more do so each day. There are currently more than a million businesses using Foursquare's Merchant Platform, which Foursquare uses to help businesses attract and reward customers.
Getting Started with Foursquare
First, head to the Foursquare for Businesss Page and click the orange "Claim Your Business" button on the right-hand side of the page. It is possible (but not likely) that your disaster restoration, commercial/janitorial, or residential carpet cleaning service company is already listed. (We'll analyze why your service company is probably not listed yet a little later in this article.)
If you want to check and see if you are listed on Foursquare just type your name and location on Foursquare's homepage. If your business has already been posted by a member of the Foursquare community you will see a button that says, "Do you manage this venue? Claim Here."
After following the link you will need to verify the address, state that you are authorized to claim the venue, choose an email address and specify whether or not your business is part of a chain. Foursquare will then make an automated phone call, or send you a verification mailer to confirm that you are the owner of the business.
If your business isn't listed, once you click the "Claim Your Business" button on the Foursquare for business page, you will be guided through the same process to set up your business.
Once you have created your listing, you can set up additional features on Foursquare, including Specials. Specials reward users for checking into your business and encourages them to share info about your business with friends. You can offer deals for users who check in for the first time or for those who have checked in multiple times.
NOTE: If you don't have a storefront, you can still launch a page on Foursquare that will build your presence, and allow you to engage with and reward fans of your page. You can register your business by following this link and clicking on the orange "Launch a Page" button on the right-hand side of the page.
You can monitor the following statistics through Foursquare's analytics:
Total daily check-ins
Most recent visitors
Most frequent visitors
Gender of your customers
What time of day people check in
What amount of check-ins are also posted to Twitter and Facebook
Why Should my Business Use Foursquare?
Foursquare doesn't have the same reach as other online directories and review sites but its users are super-loyal. They are also the type to be socially connected so they likely will give your business some extra online exposure. Added incentives also work to increase your reach through this social online directory. You can also use Foursquare to reward customers by:
Creating check-in specials.
Hosting exclusive Foursquare events
Providing tips about the area that will result in increased exposure
Exploring partnerships with other brands to expand your reach
Creating perks for those who regularly check-in
What are the Cons of Foursquare?
Foursquare isn't really used to advertise services, especially not those offered by disaster restoration, commercial/janitorial, or residential carpet cleaning service companies. This is noted by the fact that under categories there is no listing for any type of cleaning company under the main Services category!
In reality Foursquare is designed for places like coffee shops and restaurants where users can share their location with friends and maybe earn a free cup of coffee through a business special in the process! It is not the kind of website that is designed for service oriented businesses, particularly ones with no store-front, since the whole site is founded on the idea that the users go to locations and check-in – not on the premise that the service provider will come to you.
Also, many of Foursquares additional services to make your business more attractive, such as their promotional badges, come with a hefty price tag.
Is Foursquare Worth Your Time?
Our informal survey says: Non not really. (At least not now.) The fact that Foursquare is based off of the reviewers changing location runs contrary to the "we-come-to-you" services that disaster restoration, commercial/janitorial, or residential carpet cleaning service companies provide. These types of businesses should spend virtually no time messing around with Foursquare. However, that doesn't mean you shouldn't create a Foursquare listing for your business.
For all those wondering if we just said that it's NOT worth your time, but that YES, you should still create a listing, that's correct. While it may seem contradictory, remember that search engines take into account how often your company shows up across the Web. So listing your business on Foursquare, even if no one ever checks in, is still a way for you to broaden and unify your online presence.
Signing up for Foursquare is simple and takes under 5 minutes. After that, set a monthly alert to check if there is any new activity. As a disaster restoration, commercial/janitorial, or residential carpet cleaning service you probably don't need to give Foursquare any more time than that! Just a few minutes per month! (Set your phone to remind you.)
So do you "Foursquare"? Share your Foursquare suggestions in the comments section below.
Your SFS Team